Press
Emmy Buzz for Bryan Cranston, Aaron Paul, Anna Gunn; Walk of Fame Star for Cranston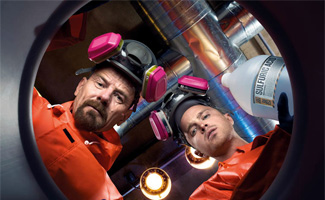 This week, Emmy speculation surrounds potential nominees Bryan Cranston, Aaron Paul, Anna Gunn, Jonathan Banks, Dean Norris and Bob Odenkirk, while Cranston is set to receive a star on the Hollywood Walk of Fame next week. Plus, RJ Mitte discusses the impact of cerebral palsy on his life and career. Read on for more:
• E! Online's list of dream best actor Emmy nominees includes Bryan Cranston — because "Walter White is awesome, so don't keep him off the list, Emmy voters!"
• The San Jose Mercury News includes Aaron Paul and Anna Gunn on its best supporting actor/actress Emmy wishlists and deems Jonathan Banks worthy of consideration. Meanwhile, TV Equals picks Paul and Banks for two of the best supporting actor Emmy nominee slots — and also calls Dean Norris and Bob Odenkirk possible contenders.
• Digital Spy reports that Bryan Cranston will get a star on the Hollywood Walk of Fame on July 16, with Aaron Paul set to pay tribute to him at the ceremony.
• Los Angeles Magazine bids farewell to Breaking Bad: "Nobody would have expected Breaking Bad to become the best crime show ever, and with just eight more episodes to go, nobody can imagine life without it."
• RJ Mitte talks to The Daily Mail about growing up with cerebral palsy and shares that a Season 1 episode where Walter, Jr. is taunted hit home because "I was a prime target for bullies." Mitte also does another interview where he talks about dealing with CP in Hollywood.
• Monsters and Critics reports that New York City's Museum of the Moving Image will present "Making Bad: An Evening with Vince Gilligan" at the end of the month, as well as an exhibit titled "From Mr. Chips to Scarface: Walter White's Transformation in Breaking Bad."
• WhatCulture provides its list of the best episodes of Breaking Bad, "the greatest television show of our age."
• Home Media Magazine favorably reviews the Season 5 Blu-ray and calls Breaking Bad "one of the smartest, most tightly written shows currently on TV."
• SF Weekly reports that a limited number of Walt's Heisenberg porkpie hats will be made by a San Francisco-based hat maker (that made the original hat for the show).
• Dean Norris discusses with the Los Angeles Times the enigma that is his new film, The Counselor, directed by Ridley Scott and written by Cormac McCarthy.
• Betsy Brandt tells Zap2it about her admiration for her new co-star, Michael J. Fox.
• TheWrap has a video of Bryan Cranston very enthusiastically rejecting Adam Carolla's suggestion that Cranston join his new film.
• The Huffington Post showcases artist Hanksy's depiction of Walt as a bald eagle, in honor of Independence Day. Uproxx points out that the work of art is called "Walter Flite." Also, Mashable reimagines Walt as Benjamin Franklin.
• TV Fanatic reports that the Breaking Bad panel at Comic-Con will feature Bryan Cranston, Aaron Paul, Anna Gunn, Dean Norris, Betsy Brandt, RJ Mitte, Bob Odenkirk and Vince Gilligan.
• In addition to the Breaking Bad panel, Bryan Cranston will also be found at Comic-Con's Godzilla panel on July 20, the Los Angeles Times reports. Meanwhile, Dean Norris will be part of the Under the Dome panel.
• To stay up-to-date on the latest news about Breaking Bad, sign up for the weekly newsletter Breaking News.
Read More