Press
Bryan Cranston Lands on GQ Cover; 13 Emmy Nods for Breaking Bad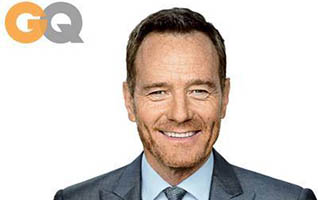 This week, Bryan Cranston graces the cover of GQ, while Breaking Bad is honored with 13 Emmy nominations. Plus, the New York Daily News thinks Dean Norris is the man of the moment. Read on for more:
• GQ puts Bryan Cranston on the cover, lauding him as "TV's greatest leading man."
• The Associated Press, the Los Angeles Times, The Star-Ledger, TVLine and USA Today report that Breaking Bad reaped 13 Emmy nominations — including best drama, best actor (Bryan Cranston), best supporting actor (Aaron Paul and Jonathan Banks) and best supporting actress (Anna Gunn). Also, New York is conflicted about whether to root for Paul or Banks, while The Star-Ledger notes that Banks's last nomination was in 1989, for Wiseguy.
• Between Breaking Bad and CBS' Under the Dome, the New York Post calls Dean Norris "this summer's most visible prime-time personality."
• Breaking Bad and The X-Files 20th anniversary reunion (which includes Vince Gilligan) are two of E! Online's can't-miss Comic-Con TV panels.
• The San Francisco Chronicle reports on Bryan Cranston getting his Hollywood Walk of Fame star, accompanied by his Breaking Bad, Malcolm in the Middle and real families.
• Ahead of Bryan Cranston's Walk of Fame ceremony, Variety spoke with the actor about he and Walt being "inextricably tied for the rest of our lives."
• Dean Norris talks to Australia's The Age about making the switch from Hank to Under the Dome's Big Jim.
• Go to Philly.com for a "hilarious" nine-minute recap video from past seasons of Breaking Bad.
• USA Today's list of binge-worthy TV shows includes Breaking Bad because "the performance of its two leads will keep you hitting the play button like it's a crack pipe." Newsday agrees, "because each episode ends with such a gut-wrenching twist that you just have to keep watching to see what happens."
• New York's calendar counting down to Season 5's Aug. 11 return has "a special BB treat every day."
• Indiewire runs a book excerpt that claims the German philosopher Martin Heidegger "has a particular relevance in light of an American TV landscape that's awash with death and populated by characters who, like Walter White, must often come to terms with their own mortality."
• USA Today, featuring a video of Breaking Bad's major players teasing the final episodes, says the show is "one of the few TV dramas that actually got better each season."
• The Hollywood Reporter checks out a teaser featuring a "rather frightened" Walt. OfficialTVPromos also has the previous teasers featuring Jesse and Hank.
• The Huffington Post has some new Season 5 photos and cast portraits.
• USA Today's review of the season 5 DVD calls Breaking Bad "one of TV's most compelling shows since it premiered in 2008."
• SheKnows gets viewers up-to-date on Breaking Bad with a series of GIFs.
• VH1's list of 20 pop culture characters with sexier alter egos includes Walt/Heisenberg: "When Walt shaved his head Heisenberg was born and we all know ladies love a bad guy with a sensitive side."
• Breaking Bad's avid viewers can buy a digital multi-touch companion book called Breaking Bad: Alchemy, according to Entertainment Weekly.
• Fast Company's Co.CREATE reports that eager fans can download "Betting Bad," an app that turns Breaking Bad's final episodes into a Fantasy Football-esque betting game.
• In an interview with the Chicago Tribune, Jeff Garlin calls Bob Odenkirk — who stars in Garlin's new film, Dealin' With Idiots — "an improvisational genius."
• Bob Odenkirk talks to LA Weekly about the world of Little League that's the subject of Dealin' With Idiots.
• To stay up-to-date on the latest news about Breaking Bad, sign up for the weekly newsletter Breaking News.
Read More