Photos
Breaking Bad Cast and Creator Thrill Comic-Con Fans at Packed Panel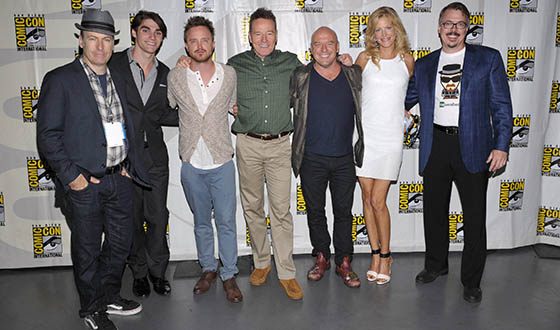 More than 7,000 eager fans packed San Diego Comic-Con International's Hall H Sunday afternoon for what was undoubtedly one of the convention's most anticipated events: The Breaking Bad panel for the final eight episodes of AMC's seminal series. The panel was moderated by Chris Hardwick, who delighted everyone in the room by announcing that he will host a new live after show, Talking Bad, which is scheduled to premiere on Sun., Aug. 11th at 11PM/10c and will serve as a companion to Breaking Bad's final episodes.
Following this announcement was the world premiere of the Breaking Bad Countdown Mashup Trailer, a two-and-a-half minute supercut of all the series' most dramatic moments to date. When the lights came back on, Hardwick brought show creator and executive producer Vince Gilligan and cast members Bryan Cranston, Aaron Paul, RJ Mitte, Anna Gunn, Bob Oderkirk and Dean Norris out on stage.
Cranston crossed the stage quietly in full Heisenberg costume complete with shaven head and goatee. As Hardwick asked the first question of Cranston, the Emmy-winning actor leaned into the microphone, hesitated and pulled off what turned out to be an incredibly life-like latex Heisenberg mask made by an adoring fan. He then admitted that he'd been walking the convention floor disguised as his own character, posing for people's photos and answering their questions in a higher-pitch voice so no one had even suspected. (Click here to see photos from the panel.)
Hardwick then asked about Walter White's character: was he always this bad guy or is his change a result of his experiences? Cranston argued that when anyone can become dangerous when "you push those buttons at the right time." He went on to say he believes Walt's "turn" actually occurred in the very first episode, when Walt made the decision to cook for the first time.
Hardwick recalled back to Walt's lecture in the first episode about "growth, decay and transformation" being a theme that echoes throughout the series. As Cranston began to speak to that point, he placed the Heisenberg head over his microphone, forcing him to lean closer into the mask's mouth to be heard. The hall began to giggle as the Walt-on-Walt tension rose, leading Cranston to then kiss himself deeply on the mouth before Aaron Paul leaned in to have his turn with the Heisenberg head. Comic-Con's largest hall was not built to contain the level of mad laughter that ensued.
Anna Gunn was asked about Skyler's evolution as a character, who she explained as having a similar intensity as Walt, of dreams being put on hold. Gunn went on to say that Skyler staying in their situation instead of turning Walt in is an attempt to control and benefit from it: "She thinks she can outsmart it in the same way he thought he could outsmart it."
RJ Mitte won the crowd's hearts quickly when asked if he thought the Whites were a good family. He said he thought so because they definitely loved each other, even if Walter, Jr. doesn't understand what's going on around him. Being part of the White family certainly influenced Mitte's ideas of family and adulthood; he started the show when he was 14 (he's now 20.) "Most people had high school," the actor said. "I had Breaking Bad."
Hardwick also drew great reads from Dean Norris about Hank and Bob Odenkirk about Saul Goodman, both of them explaining their characters' greatest strengths: for Hank, his unwavering morality and  for Saul, his level-headed competence.
From there, the fan Q&A began, and it was clear how fervent the love for this decidedly non-sci-fi show is at Comic-Con. The cast was asked about their favorite lines from the show thus far, giving Cranston a chance to deliver his now-infamous, "I am the danger!" line; and Aaron Paul a "Yeah, bitch! Magnets!" moment that set the crowd roaring.
Vince Gilligan fielded questions about pizza-tossing (even though they had a $180K special effects plan ready to go, Bryan Cranston threw the pizza perfectly on the first take) and how exactly Walt managed to poison little Brock. For the latter question, Gilligan revealed that the writers had an unfilmed plan known as "Evil Juice Box Man", in which Walt had injected the Lily of the Valley toxin into a juice box and delivered it to Brock's school in a sequence they'd mapped out on the episode's timeline — even though it would never be explained in the show.
A fan asked Cranston what Walt's current drive was, going into these final eight episodes. Cranston answered simply "Empire", saying that Walt feels a power that he's never experienced in his life and he's "succumbed to it like an aphrodisiac."
Chris Hardwick asked the final question to Vince Gilligan: Is he satisfied with how the series ends? Vince said he is very sad to leave the show that's completely changed his life, but assured the thousands of people in the hall that everyone involved in the show on either side of the camera is very happy with the experience as a whole.
And with that, there was time for a quick clip from a coming episode, about which this writer will say nothing except every fan will want to tune in to the Breaking Bad premiere to see this stunning two-minute sequence. As the clip ended, the entire audience rose to their feet and delivered a prolonged standing ovation for the creators of this landmark television show.
Want to see more from Breaking Bad's presence at Comic-Con?

Breaking Bad returns on Sunday nights beginning on Sun., Aug. 11 at 9/8c followed by AMC's new original series Low Winter Sun at 10/9c.
Read More