Press
Aaron Paul Visits Jay and Conan; Breaking Bad Panel Electrifies at Comic-Con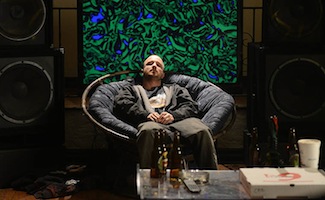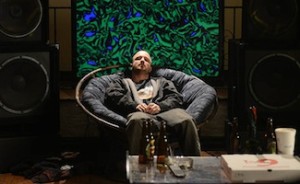 This week, both Jay Leno and Conan O'Brien host Aaron Paul on their respective shows, while the Breaking Bad panel plays to a packed house at Comic-Con. Plus, Bob Odenkirk's Saul Goodman is featured on The New Republic's cover. Read on for more:
• On The Tonight Show with Jay Leno, Aaron Paul calls Breaking Bad's final episodes a "violent, brutal sprint to the finish line." Paul also recalls an encounter with a nearly-naked Steven Tyler.
• Aaron Paul sits down with Conan O'Brien and discusses Jesse's famous catchword as well as the marital advice he got from Keith Richards.
• "There was an electric vibe in the air," Deadline says of Breaking Bad's Comic-Con panel. The panel's revelations — which featured a series recap — were covered by Entertainment Weekly, HitFix and The Huffington Post.
• Bob Odenkirk, as Saul Goodman, appears on The New Republic's Aug. 5 cover and shares that his portrayal of Saul's energy and "playful duplicity" is based on Hollywood agents.
• The Los Angeles Times reports on Jason Reitman's live reading of the Breaking Bad pilot that featured Rainn Wilson as Walt and Mae Whitman as Jesse. New York thinks "Whitman's Jesse stole the show." Grantland also notes that "Gilligan wrote surprising details about the character into the script, all of which Reitman read aloud last night."
• The Hollywood Reporter recounts the scene at a celebration of Breaking Bad's final eight episodes earlier this week.
• USA Today calls Sunday "Dean Norris Day at Comic-Con" because the actor joined two Comic-Con panels that day (for Breaking Bad and CBS' Under the Dome). Norris speaks briefly with Zap2it about the Breaking Bad panel, while Den of Geek salutes Hank as one of the show's supporting characters that's made Breaking Bad "so relentlessly engrossing."
• New York has a photo of Bryan Cranston's custom Comic-Con Heisenberg disguise. Two of Digital Spy's funniest Comic-Con moments involve Bryan Cranston's mask, one with Cranston and the other with Aaron Paul. E! Online has even more on the mask.
• The Hollywood Reporter says series like Breaking Bad that made their final appearances was one of Comic-Con's winners this year, citing the "love-fest between Bryan Cranston and Aaron Paul."
• TV Guide visits the Breaking Bad set to talk to the actors about the final episodes — and Aaron Paul reveals, "This season slaughters every past season." Paul tells CNN that Breaking Bad is "just dangerous and you almost feel like you're doing something wrong watching it in a way."
• Aaron Paul, during a Breaking Bad sit-down with The Hollywood Reporter, says fans "want to believe that Bryan [Walt] goes into some sort of witness protection and that's where he starts Malcolm in the Middle."
• Entertainment Weekly caught up with Vince Gilligan and most of Breaking Bad's cast in a video interview.
• Speaking with The New York Times about the Emmys, Vince Gilligan discloses, "Creatively, I think we're going out on a high note. I'm very proud of these final eight episodes and have not had one second of self-doubt that we're ending at the right moment."
• The Los Angeles Times chats with Vince Gilligan about Breaking Bad's Emmy nomination haul and calls the nods "an extra dose of momentum to the drama's upcoming final act."
• The Hollywood Reporter is pleasantly surprised that Jonathan Banks got an Emmy nod, observing, "In a varied and amazing career, it would be nice if people studied this tremendous performance."
• E! Online shares that Bryan Cranston calls his latest best actor Emmy nomination "as sweet as ever."
• Variety reports on Aaron Paul and Anna Gunn reacting to their Emmy nods.
• Gold Derby points out that Breaking Bad has received its first-ever writing nominations, for Season 5's "Dead Freight" and "Say My Name."
• USA Today highlights a poll that names Breaking Bad as the most-anticipated summer TV show.
• Los Angeles Magazine has a breakfast conversation with Anna Gunn and some of the show's writers and producers to learn about Breaking Bad's creative process.
• Entertainment Weekly has a trailer of the Aug. 12 episode of Discovery Channel's Mythbusters, which features Breaking Bad — and Vince Gilligan and Aaron Paul.
• According to HitFix, Vince Gilligan proclaims, "There'd be no Breaking Bad without The X-Files."
• Entertainment Weekly reports that Bryan Cranston will lend his voice to a guest-starring role on the upcoming season of FOX's Family Guy.
• Paste showcases a trailer for Cold Comes the Night, a film starring Bryan Cranston.
• The Portland (Oreg.) Mercury reports the "STUPENDOUSLY GOOD news" that Bob Odenkirk and David Cross are reuniting for a show connected to their book tour.
• To stay up-to-date on the latest news about Breaking Bad, sign up for the weekly newsletter Breaking News.
Read More