Press
Vince Gilligan Talks Final Episodes With EW; GQ Interviews Bryan Cranston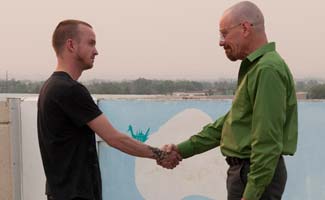 This week, Entertainment Weekly speaks with Vince Gilligan about the final eight episodes, while Bryan Cranston chats with GQ. Plus, Bob Odenkirk discusses his career and Saul with Made Man in a video interview. Read on for more:
• Vince Gilligan discusses the final episodes in Entertainment Weekly and warns viewers, "You need to really settle down on the couch and pay close attention because it's going to come at you fast and furious in the final eight episodes."
• Bryan Cranston talks to GQ in a video interview about Walt's evolution: "By the fourth season he had to fully embrace who he's become in order to survive and learn that skill set of how to be a criminal."
• Made Man interviews Bob Odenkirk, who discusses why Saul talks so much: "The dialogue was not just jibber-jabber. The character was trying to manipulate the people through his arguments that he was making."
• At an Emmy roundtable with the Los Angeles Times, Bryan Cranston says that Walt is not unique, that "everyone is capable of doing severe damage to themselves or to society or to another human being depending on the condition of that person."
• Anna Gunn, speaking with Backstage's Emmy roundtable, talks about the challenges of descending into the pool in Season 5, Episode 4, "Fifty-One."
• The Huffington Post interviews Bryan Cranston, who speaks about the importance of Heisenberg's hat: "Walter White goes to that touchstone, that talisman of the pork pie hat, and man when he puts that on, it changes him."
• Vince Gilligan tells Variety "it was like the heavens shining down and light springing out" when the writers figured out how to get Walt and Jesse out of the RV and Hank's clutches in Season 3, Episode 6, "Sunset."
• George Mastras, who wrote and directed Season 5's "Dead Freight," tells New York how he "turned this potentially shark-jumping scenario into a dread-filled thriller of a sequence that was the most suspenseful TV scene of the past year."
• One of Variety's big moments during the 2012-2013 TV season was Todd shooting the boy who witnessed the train heist (in Season 5, Episode 5, "Dead Freight"). (No Link.)
• HitFix thinks Aaron Paul and Jonathan Banks should get Emmy nods in the drama supporting actor category, citing the former for being "great" and the latter for giving "even more shading to this complicated, pragmatic man."
• HitFix also wants Anna Gunn — who "got to do her usual great work playing Skyler's internal struggle" — to get a best supporting actress Emmy nomination.
• The Huffington Post does a Q&A with Breaking Bad's composer, Dave Porter, who says, "My hope is that when you hear the score it is immediately identifiable as the music from Breaking Bad."
• CBS News, Deadline, Digital Spy, Entertainment Weekly, IGN, Indiewire, the New York Daily News and TV Fanatic all report on Breaking Bad's three Television Critics Association award nominations.
• Breaking Bad and Bryan Cranston's Critics' Choice Television Award wins were covered by BBC, CNN, Deadline, Gold Derby, the Los Angeles Times, Reuters, Rolling Stone, The Telegraph and Us Weekly.
• Digital Spy calls Walt allowing Jane to die "perhaps the most disturbing moment" on Breaking Bad.
• PopMatters talks about the importance of the New Mexico desert's "bleak and harsh terrain" as Breaking Bad's backdrop.
• Yahoo praises Scotland-born Laura Fraser (Lydia) for "her rock-solid American accent."
• DVD Talk's review of the Season 5 Blu-ray describes Breaking Bad as "one of the most ridiculously addictive television shows to come along in years and truly one of the finest series to ever grace the airwaves."
• The Huffington Post features a video of Stephen King and cast members, including Dean Norris, discussing CBS' Under the Dome TV series.
• Go to First Showing for a behind-the-scenes look at Need for Speed, a new film starring Aaron Paul that will be released in March 2014.
• Aaron Paul also showed up at the Electronic Entertainment Expo to promote the game, Need for Speed: Rivals, according to the Associated Press. Check out video of Paul at the event at USA Today.
• See Dean Norris in the trailer for The Frozen Ground, courtesy of The Inquisitr.
• To stay up-to-date on the latest news about Breaking Bad, sign up for the weekly newsletter Breaking News.
Read More