Press
Bryan Cranston Hosts Reddit Ask Me Anything; Washington Post Endorses Breaking Bad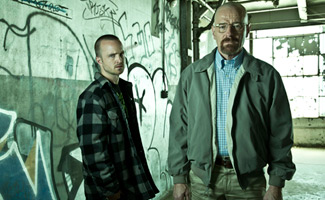 This week, Reddit features Bryan Cranston in an Ask Me Anything, while The Washington Post hails Breaking Bad's final return. Plus, Dean Norris does a slew of interviews, including Jimmy Kimmel Live. Read on for more:
• Bryan Cranston hosted an Ask Me Anything on Reddit, proving "once again that he is kind of awesome," according to Entertainment Weekly. A.V. Club, Complex, The Hollywood Reporter, The Huffington Post, IFC, Metro, Newsday, New York, Rolling Stone, Vanity Fair and Wetpaint have highlights from the session.
• The Washington Post recommends Breaking Bad ("the best TV show around") for your summer viewing pleasure.
• Dean Norris tells Jimmy Kimmel that Breaking Bad's final scripts were redacted and joked you had to "read it in a room with Vince Gilligan pointing a gun at your head."
• Talking to The Huffington Post, Dean Norris sheds a little light on Breaking Bad's final episodes, including his assertion that "the last eight are the best eight of the whole series."
• Dean Norris, interviewed by the New York Daily News, contrasts his new role in CBS' Under the Dome with Breaking Bad's Hank: "It's more fun playing the reptilian, chameleon guy, certainly, after you play the good guy for six years."
• Deadline, The Hollywood Reporter and Variety report that Breaking Bad and Bryan Cranston won the awards for best international drama series and best drama actor at Monaco's Monte Carlo international television festival.
• One of TV's most shocking moments this year, according to the St. Louis Post-Dispatch, was Walt murdering Mike, which means "Walt is so far gone, he's capable of anything."
• HitFix puts Bryan Cranston on its list of deserving Emmy nominees for best drama actor because he "expertly played Walt's growing arrogance and cruelty" in the first half of Season 5.
• CarterMatt.com's Emmy preview thinks Anna Gunn should get a nod again this year because the past eight episodes "may have had a better ratio of great Skyler moments (like having Jesse over for dinner) than any other collection thus far."
• The Associated Press's summer TV preview spotlights Breaking Bad, predicting, "The end just can't possibly be pretty for Walt (aka 'Heisenberg') and his sidekick Jesse Pinkman."
• The Philadelphia Daily News also recommends Breaking Bad this summer, warning, "Don't be one of those people who 'discovers' it on DVD or Netflix long after it's gone."
• Variety checks out what regulars from long-running TV shows, like Breaking Bad, are going to do next — and what the challenges are.
• Vince Gilligan will deliver a masterclass on Breaking Bad at the Edinburgh TV Festival this August, according to the BBC.
• Bill Burr tells Artvoice he was a big fan of Breaking Bad before getting cast as Kuby, so the "first episode I did, all I could do was sort of emotionally hold it together and not come off like some fan that won a radio contest."
• Comics Alliance has an animation-inspired illustration of Breaking Bad ("the least appropriate subject for a Saturday morning cartoon"), as drawn by Ian Glaubinger.
• TV Fanatic's review of the Season 5 DVD/Blu-ray assures viewers they'll "eat up not just every episode but the fabulous extras, too."
• Entertainment Weekly showcases the poster for Dealin' With Idiots, a film opening July 12 that stars Bob Odenkirk.
• To stay up-to-date on the latest news about Breaking Bad, sign up for the weekly newsletter Breaking News.
Read More