Press
Vince Gilligan Joins LA Times Roundtable; Samuel L. Jackson Is "The One Who Knocks"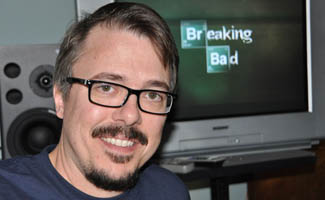 This week, Vince Gilligan joins a Los Angeles Times showrunner chat, while Samuel L. Jackson performs Walt's "I Am the One Who Knocks" speech. Plus, the Writers Guild names Breaking Bad one of the best written shows of all time. Read on for more:
• During a showrunner discussion, Vince Gilligan tells a Los Angeles Times, "The biggest gift I ever got in my life was getting to do this show. The second biggest gift was being told 'You have exactly 16 more episodes.'" Gilligan also speaks with Wired about binge-watching and the rest of Season 5.
• Yahoo has a video of Samuel L. Jackson giving Walt's famous "I Am the One Who Knocks" speech from Season 4 and calls it "almost too awesome to comprehend."
• The Writers Guild of America, West ranks Breaking Bad at No. 13 on its 101 Best Written TV Series of All Time list and quotes Vince Gilligan who called the idea for the series a "proverbial lightning strike." The Hollywood Reporter, the Los Angeles Times and Business Insider discuss the list.
• Entertainment Weekly features Conan O'Brien's vision of how Breaking Bad should end, which includes "a shocking transformation, a cross-species alliance, some great literature, a little murder…"
• Fast Company brought together several showrunners, including Vince Gilligan, who talks about the Season 2 scene where Walt let Jane die. The Hollywood Reporter also has insights from Gilligan and the rest of the panel.
• Variety observes that Bryan Cranston, a leading Emmy contender, could "benefit from new episodes airing during the final voting period" if he's nominated.
• U.S. News and World Report forecasts that Breaking Bad is "a lock" for an outstanding drama Emmy nod and is "also a major contender for the big award."
• CarterMatt predicts that Jonathan Banks will win the Critics Choice TV Award for best supporting actor, "thanks to his gritty take on Mike, and the general affection that is out there for Breaking Bad."
• Rolling Stone reports on a Reddit "Ask Me Anything" featuring members of Breaking Bad's writing and production staff, including Executive Producer (and Director) Michelle MacLaren.
• USA Today previews Breaking Bad's teaser poster for its final episodes, featuring the tagline, "All Bad things must come to an end."
• Variety speaks with Bryan Cranston about his foray into producing, on Breaking Bad and beyond.
• The Denver Post summer TV round-up includes Breaking Bad, telling viewers, "Stand by for the final eight episodes of one of the most brilliant and darkest series ever." The StarTribune also heralds Breaking Bad's return this summer, warning, "This. Is. It." In its summer preview, the San Jose Mercury News calls Breaking Bad "one of television's hall-of-fame dramas."
• The Australian, previewing Season 4, Episode 6, "Cornered," calls it "a brilliant episode with an extraordinary first scene."
• Entertainment Tonight spotlights a clip from the Season 5 DVD/Blu-ray that goes behind the scenes of the train heist in Episode 5, "Dead Freight," to show "just how the production pulled off the cinematic sequence near Santa Fe."
• The Sydney Morning Herald offers a look at the making of "Chicks 'n' Guns," an extra scene on the Season 5 DVD/Blu-ray that provides some background for Season 5, Episode 8, "Gliding Over All."
• MStars News checks out another featurette from the Season 5 DVD/Blu-ray that looks at the difficulties of filming inside a tented house for the scenes where Walt and Jesse cooked with a pest control company as their front.
• New York provides a Dothraki (from HBO's Game of Thrones) translation of "I am the one who knocks."
• Season 5, Episode 8 "Gliding Over All" — where Walt "orders a calculated, cross-country killing of Mike's nine henchmen as well as their lawyer in two minutes" — wins a spot on Ology's list of the TV season's best episodes. So does Season 5, Episode 5, "Dead Freight," featuring Walt, Jesse and Todd's train heist in "one of the most fist-pumping sequences in the show's history."
• Digital Spy takes a Breaking Bad-themed tour of Albuquerque.
• Entertainment Weekly reports that Bob Odenkirk is set to write and star in Girlfriend's Day, a comedy to be directed by Michael Paul Stephenson.
• The New Mexican reports that Anna Gunn gave the graduation address this year at Santa Fe Preparatory School, her alma mater.
• To stay up-to-date on the latest news about Breaking Bad, sign up for the weekly newsletter Breaking News.
Read More