Press
Aaron Paul Goes Online With Gold Derby; Vince Gilligan Salutes James Gandolfini in THR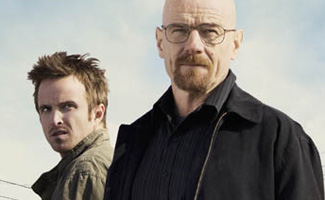 This week, Gold Derby has an online chat with Aaron Paul, while Vince Gilligan pays tribute to James Gandolfini in The Hollywood Reporter. Plus, Anna Gunn talks to both the Los Angeles Times and The Guardian. Read on for more:
• Aaron Paul, speaking with Gold Derby, says Breaking Bad's ultimate ending "surprised us all, in a great way."
• In The Hollywood Reporter, Vince Gilligan says, "Without Tony Soprano, there would be no Walter White," and reflects on James Gandolfini's warmth and friendliness.
• Anna Gunn tells the Los Angeles Times her favorite episode of the series to date is Season 5's "Fifty-One" because "it showed such a broad range of emotions from Skyler."
• The Guardian interviews Anna Gunn, who thinks the way Breaking Bad's cinematographer "captured New Mexico was extraordinary."
• TV Guide learns from Vince Gilligan that Breaking Bad's first episode back will contain an homage to Star Trek.
• Breaking Bad will appear at San Diego Comic-Con next month, on July 21, CarterMatt.com reports.
• Entertainment Weekly compiles a likeability index of characters — including Walt, Jesse, Skyler, Marie and Saul — that "make us question who we're rooting for and why."
• Deadline asserts, "There are very few shows that are as groundbreaking as Breaking Bad" and thinks it deserves to win at least one best drama Emmy before going off the air.
• MediaPost's choice for the best drama Emmy is Breaking Bad ("a series as dark and unsettling as any ever produced for American television"). MediaPost also thinks the "crazy-talented" Bryan Cranston deserve the lead drama actor award.
• The Boston Globe's Mount Rushmore of TV actors includes Bryan Cranston (and Mad Men's Jon Hamm).
• USA Today reports that Breaking Bad won three Saturn Awards: best presentation on television, best actor for Bryan Cranston and best supporting actor for Jonathan Banks.
• The Sacramento Bee hails Breaking Bad's August 11 return and calls Vince Gilligan "masterful."
• Deadline speaks with Michael Slovis, the show's cinematographer, who says that Breaking Bad uses "a more traditional film approach rather than television."
• Dean Norris, talking to Parade, calls Breaking Bad's last episodes "a great way to end an iconic show."
• The Tampa Bay Times quotes Dean Norris saying, "It's great to play the only guy on the show who didn't break bad. All he wanted was a clean soul."
• Dave Porter, Breaking Bad's composer, tells Yahoo to expect a "call back to some musical motifs first expressed in previous episodes" during the show's final run.
• What Culture concludes that Breaking Bad is "the best TV show I have ever seen," citing the drama's visuals, acting and "moral questioning."
• USA Today features a new Breaking Bad app that enables users to have their name appear with elements from the periodic table, just like in the show's opening credits.
• RJ Mitte talks to ARTISTdirect.com about starring in a new music video for Hollywood Undead's "Dead Bite."
• Celebuzz, highlighting a TV spot promoting the final batch of Season 5 episodes, confesses, "I still get tingles when I hear Heisenberg talk about the empire business."
• CarterMatt.com describes the new poster for the series' final episodes as "ominous, creepy, and a not-so-subtle reminder that Walter White still believes himself to be the most important man in the room." Crave Online, Digital Spy, The Hollywood Reporter, The Huffington Post, NBC News, New York, TheWrap and Zap2it also spotlight the artwork.
• Albuquerque's KOAT-TV reports that a local spa is teaching customers how to make Breaking Bad-inspired blue sheet candy and bath salts.
• Indiewire reports that Giancarlo Esposito will receive a star on the Hollywood Walk of Fame.
• Betsy Brandt's new series, The Michael J. Fox Show, will debut on NBC on Sept. 26, according to RedEye.
• Catch Bob Odenkirk as Richard Nixon in Comedy Central's first episode of Drunk History (courtesy of Uproxx).
• According to A.V. Club, an Albuquerque brewery is coming out with a Breaking Bad-inspired beer called "Heisenberg's Dark."
• The latest Breaking Bad homage comes from Fighters Only magazine, which features two mixed martial arts coaches costumed as Walt and Jesse in hazmat suits.
• To stay up-to-date on the latest news about Breaking Bad, sign up for the weekly newsletter Breaking News.
Read More