Uncategorized
A Day on the Set of Breaking Bad – Part II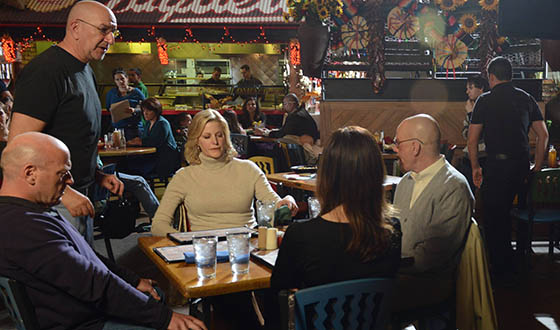 This is the second and final part of AMC.com's report from the set of Breaking Bad. Click here to read Part I.
Over lunch, Michael Slovis tells me that the seriousness and heightened stakes of these final episodes of Breaking Bad has had a noticeable effect on the crew. "This set is usually a very congenial, easy-going place to work," he says. "Now there's a wistfulness that indeed we're in the last episodes, and after this we're all going to go our separate ways."
What's more, he says, there's a stress level that comes with a desire to stick the landing; to make sure the ending is what the writers envisioned and the fans are hoping for. "It's been the credo of this show to not leave any open ends at all," he says. "Everything gets summed up. All actions have consequences, and every action will be met with an even greater reaction. So something you saw in Season 3 and maybe forgot about may just resurface in Season 5."
Endings are indeed on the forefront of peoples' minds. Between takes, Anna Gunn wipes a tear as she tells me, "It's been so intense. I feel like my head is going to explode." Aaron Paul swears he's OK for now, but knows that when the wrap date gets closer, "I'm gonna be a mess." Bryan Cranston admits that after six years and sixty-two episodes, he could even go for another season — "But I respect Vince Gilligan's decision not to draw the story out and dilute it," he adds. "And now that it's ending, every episode is just…" Here he slaps his hands together and then shoots his right arm forward, mimicking a car speeding away at full throttle.
By late afternoon, cast and crew are in a rhythm. The cameras have moved from the stage to the floor and are circling the cast like prey. They'll focus on one character for a number of takes, then Slovis will cut and reposition on the next character to do it all over again. Throughout, Hutchison watches each performance and gives notes. Even though the scene's been acted out dozens of times, it's not until she sees an actor's face close up in a monitor that she can truly gauge how a line is being delivered.
Slovis calls cut and the action stops. Outside, lighting techs are shining huge lights through the windows to replace the fading daylight. Bryan Cranston doesn't even notice the switch. "It's like a casino!" he tells me when I remark how natural the streaming rays look.
The extras — even the ones who paced themselves — are becoming visibly exhausted at the sight of the food in front of them. Dean Norris leans back in his chair and stretches his arms wide. "Guys," he announces, surveying the restaurant, "the good news is we're about a third of the way done." Everybody laughs.
Albert and Slovis take a seat in "video village" — where director's chairs face an array of monitors that stream the camera angles. They're two veterans enjoying a brief respite from the frenzy. Tomorrow, production on the episode will wrap and Albert will leave Albuquerque for another job while Slovis resumes his duties as DP. "We're both due for new adventures," Albert tells Slovis.
"That's the way I look at it," Slovis agrees. "I'm looking forward to seeing what doors open for me."
That is, after one more door opens — or rather bursts open. It's the following day and the crew is back to the relative comfort and ease of Albuquerque Studios, where Breaking Bad resides across two different sound stages that house the White house, Jesse's house, portions of the car wash, remnants of the Superlab (RIP) and Saul's office among other interior sets.
The level of detail in the sets is astounding: Sitting on Saul's desk (in front of the infamous U.S. Constitution wallpaper) are stacks of legal briefs all with Saul's name on them. Hanging on the wall is a fully-written newspaper article extolling the virtues of one of Albuquerque's finest litigators. Stewart Lyons explains the reason is two-fold: First, the era of HDTVs has fundamentally changed the way set designers approach their craft: "It used to be you could get away with less detail," he says, "now everything has to stand up to scrutiny." The other factor is Vince Gilligan's meticulousness. Even if viewers can't see it, Gilligan wants the details done right.
Slovis needs to film only one more scene to complete his episode: one of the lead actors kicking down a door (you'll have to wait 'til this summer to find out which actor, and which door). The construction crews have prepared the door and Slovis has positioned the camera low inside the room. Though I'm standing behind the camera, I'm asked to leave — they're not sure exactly how many splinters the doorframe will break into or which way they'll go, so it's safer for me to be behind the monitors.
Off-camera, the actor begins grunting loudly, psyching himself up. Slovis asks if he's ready; the actor grunts louder: He's ready. Slovis yells "Action!" The door explodes on its hinges as wood splinters indeed fly everywhere. The actor storms into the room. The cameras cut. "There's one for [his] action reel," Slovis laughs.
And just like that, the episode is in the can.
Click here to read an interview with Breaking Bad's Executive Producer and Director Michelle MacLaren.
Read More