Uncategorized
A Day on the Set of Breaking Bad – Part I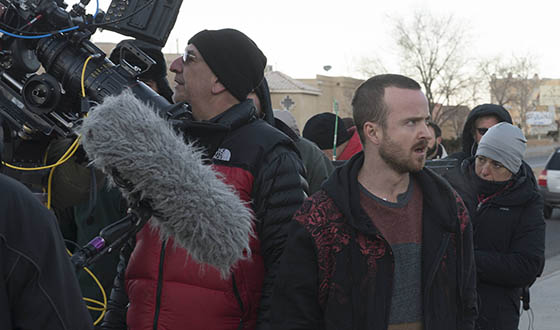 On a crisp January morning, the Breaking Bad crew huddles against a concrete spillway in Albuquerque. They're here to get one shot: It's at this location where Jesse will come to a decision that, as the episode's director Michael Slovis tells me, "pushes all the stories forward" in the final eight episodes. But first, the sun has to rise.
Aaron Paul emerges from his trailer wearing a fur-lined parka, which he'll shed before filming starts. (Gennifer Hutchison, the episode's writer, explains that the show maintains a constant "spring" look, meaning the actors always wear light jackets. "So in the summer they're sweltering," she says, "and now they're freezing.") His hair has grown longer since last we saw him, as has his beard. "Jesse's so haggard," Paul laughs. "I feel bad for him."
"We've got sun!" a crew member shouts, sparking a frenzy of activity. Paul quickly sheds the parka and positions himself on top of a crate. At his feet is what Hutchison calls the "smallest circular track ever," which will carry a camera 360 degrees around Paul as the scene develops. Slovis calls "action" and Paul's demeanor instantly shifts as he becomes Jesse, right before everyone's eyes.
Between takes, the police allow traffic to pass along Juan Tabo Boulevard (coincidentally home to the late great Gale Boetticher). Some drivers honk their horns; others open their windows and shout "Yeah Breaking Bad!" The crew has noticed more and more of this as the seasons have progressed. Whereas once signs directed crew members to shooting locations using the iconic Breaking Bad periodic table logo, now they use more obscure arrangements of letters — code, I'm told, to prevent locals from stealing the signs. "I think everybody in Albuquerque watches Breaking Bad now," Paul says.
The final shot of the morning takes place across the street, where Jesse appears as just a small speck against the concrete edifices that look like tombstones. Camera Operator Andy Voegeli is perched 10 feet above the ground on an enormous tripod. Between the camera and Paul, a street dead-ends into the dam with left- and right-turn only arrows painted onto the lanes. "I love this shot," Slovis says of the panorama. "It's like Jesse could go either way."
Whichever way Jesse goes, Paul at least is finished for the day. The production quickly packs up and heads to its second location: A family-style Mexican restaurant where red and green bare light bulbs hang from the ceiling and the wait-staff sport Cozymel blouses and long purple skirts — so kitschy it just has to be real.
Originally, the script called for the Whites (Skyler and Walt) and the Schraders (Hank and Marie) to meet at a national chain restaurant. But last-minute cold feet on the restaurant's part forced the production to find a new location — a turn of luck that Line Producer Stewart Lyons couldn't be more thrilled about. "I'm a big believer in happy accidents," he tells me. "Look at this place. It's a family restaurant with just that little twist that makes it uniquely Breaking Bad."
Also present in the scene will be over 60 extras — waiters, busboys and most importantly, families — all enjoying a pleasant outing while the White family sits through yet another of the show's now-signature family meals nearby. "That's the whole point," Hutchison tells me. "They're surrounded by families."
Of course, having all those people eat and interact with each other while trying to pick up whispered dialog presents certain challenges. As the extras take their seats at tables throughout the restaurant, First Assistant Director Nina Jack addresses them: "I'm going to ask you to do one thing," she says. "It sounds easy now, but it's going to get really hard later on: No talking." Throughout the scene — and for the rest of the day — the extras will be eating, smiling, laughing and chatting with each other all in complete silence.
The cameras are set up on a stage separating the dining area from the bar. Typically, the stage would be set for a live band, but in a bizarre role reversal the stage is ready to watch the performance in the audience. When the cast arrives, the extras cheer. Bryan Cranston walks around the tables introducing himself. When he gets to a family with two young boys, he pretends to sneeze in their food.
The actors take their seats while Arthur Albert — filling in for Slovis as this episode's Director of Photography — measures light levels. Dean Norris is seated across from Bryan Cranston; Anna Gunn faces Betsy Brandt.
When Slovis yells "Action," the principal actors drop into character. The background actors begin silently mouthing to each other, smiling and taking bites from their meals. They've begun what will become an eight-hour marathon performance of four pages of script.
Check back next week to read Part II of the on-set report.
Click here to read an interview with Director of Photography Michael Slovis.
Read More