Press
Anna Gunn Joins THR Emmy Roundtable; USA Today, TheWrap Applaud Breaking Bad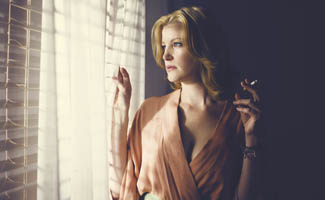 This week, Anna Gunn is one of the lead drama actresses included in The Hollywood Reporter's Emmy roundtable, while USA Today and TheWrap bestow high praise upon Breaking Bad. Plus, Steven Soderbergh shares his idea for a Breaking Bad cinematic experience. Read on for more:
• Anna Gunn tells The Hollywood Reporter Emmy roundtable that she needed more direction in the beginning because Skyler "was a tough character to play; very shrouded, keeps everything pretty close to the vest."
• "Seldom has TV seen a better drama," USA Today says of Breaking Bad, one of its must-see summer TV series.
• Calling Breaking Bad "one of the greatest television shows ever, if not the best," TheWrap recommends that viewers catch the end of the drama this summer.
• Steven Soderbergh tells Empire that the final two episodes of Breaking Bad should be shown in theaters.
• The Los Angeles Times looks at this year's shocking TV deaths, including Mike getting shot in the chest by Walt while sitting in a parked car.
• Anna Gunn tells GoldDerby that Vince Gilligan was "very definite from the beginning that he wanted Skyler to be a woman with a backbone of steel."
• Bernardo Bertolucci, speaking to Indiewire, points out that American TV shows like Breaking Bad are better than their big-screen counterparts today.
• The New York Times observes that TV's dominant theme this summer "may be goodbyes," as high-profile series like Breaking Bad begin their final seasons.
• The New York Daily News summer TV preview highlights Breaking Bad's final episodes, noting, "It's safe to say no one is safe."
• Highlighting Breaking Bad's upcoming final run of episodes, TODAY.com warns, "Prepare yourself for some major withdrawal." CNN and CBS News also spotlight Breaking Bad's return this summer.
• The Irish Times discusses the preponderance of TV's "psychologically complex, morally ambivalent, not-very-nice lead characters," like Walter White.
• Previewing CBS' Under the Dome, Cinema Blend declares, "Summer 2013 will be the summer of Dean Norris."
• To stay up-to-date on the latest news about Breaking Bad, sign up for the weekly newsletter Breaking News.
Read More