Press
NYT Cites Breaking Bad As All-Consuming TV; Complex Names Pilot One of All-Time Best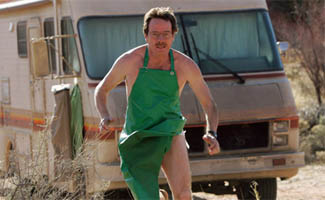 This week, The New York Times discusses the all-consuming nature of TV with Breaking Bad as a backdrop, while Breaking Bad's pilot is deemed by Complex to be one of the best of all time. Plus, the Game of Thrones showrunners rave about Breaking Bad and Vince Gilligan. Read on for more:
• The New York Times uses Breaking Bad — its plots, dialogue, setting, etc. — to explain why "it's hard for even the greatest novels to compete with the visual power and mimetic energy of film and TV."
• Complex names Breaking Bad to its list of the 50 best TV pilots of all time, observing that "the real triumph is that Walt doesn't end the hour as a meth-cooking badass nor on his way to being one, just yet."
• The showrunners of HBO's Game of Thrones tell The Daily Beast, "What Vince Gilligan and his team have created with that show [Breaking Bad] is nothing short of American art."
• Talking to The Hollywood Reporter, Vince Gilligan shares the story of how Warren Buffett's Breaking Bad parody with Bryan Cranston and Aaron Paul came to be.
• The Hollywood Reporter, the Los Angeles Times, CBS News, E! Online and Deadline report that Breaking Bad has landed four Critics' Choice Television Awards nominations.
• Rolling Stone puts Breaking Bad on its summer TV preview list, saying, "We'll be tuning in." Media Life Magazine also says, of Breaking Bad: "One of the most acclaimed shows in cable TV history, it returns for its final season with a huge amount of buzz."
• Aaron Paul tells New Zealand's Stuff that Jesse "was kind of an emotional wreck, you know, and he went through so much, but I just love him so much. I really felt so close to that guy."
• The Sydney Morning Herald says Breaking Bad "continues to enthral us with its edgy rawness and comedic enticements."
• Stuff also calls Breaking Bad "the rare occasion where something meets our irrationally high expectations."
• The Age analysis of Breaking Bad commends Bryan Cranston for bringing "boundless warmth and humanity to his highly challenged character." The Age's review of the show also observes, "Good television makes us think about deeper questions. Breaking Bad is great television."
• In honor of the Preakness Stakes, Bleacher Report suggests some Breaking Bad-themed horse names.
• TVLine has the first full-length trailer for CBS' Under the Dome, starring Dean Norris.
• To stay up-to-date on the latest news about Breaking Bad, sign up for the weekly newsletter Breaking News.
Read More