Press
Vince Gilligan Talks With New York; Bryan Cranston Is One of Fast Co.'s Most Creative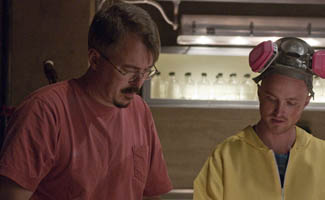 This week, Vince Gilligan discusses all aspects of Breaking Bad with New York, while Bryan Cranston is deemed one of the most creative people of 2013 by Fast Company. Plus, Aaron Paul also talks to New York about Jesse's most famous vocabulary word. Read on for more:
• In an extensive conversation with New York, Vince Gilligan reveals that Walt's superpower is "his ability to lie to himself. He is the world's greatest liar. He could lie to the pope. He could lie to Mother Teresa."
• Fast Company names Bryan Cranston one of the year's most creative people in business. In an interview, Cranston says, "I was happiest when I kept hearing the comments, 'Wait, Walter White is the guy from Malcolm in the Middle?' That's the best praise I can get."
• Aaron Paul speaks with New York about the word Jesse says most famously and most often, noting there's one utterance "coming up in the final set of episodes that is just perfect."
• Vince Gilligan, speaking with Newsweek about how TV shows and TV watching has changed, says, "I've always said that I don't see my show as serialized so much as hyperserialized."
• In The Hollywood Reporter's Writers Issue, most of the showrunners surveyed chose Vince Gilligan as the showrunner they most admire. Gilligan, for his part, would join the writing staff of Adult Swim's Childrens Hospital ("damn funny show") if he could. (No Link.)
• Vince Gilligan — "the man who saw too much darkness" — also appears on Fast Company's list of 2013's most creative people in business.
• A New York poll reveals that a sampling of TV stars, executives and showrunners is most sad to see Breaking Bad end this year, considers Bryan Cranston the best drama actor and thinks Walt should get away with everything in the series finale. (No Link.)
• New York's primer on how to write a TV drama uses Breaking Bad for many examples, citing Walt in Rule 1A: "Start with an anti-hero. Make him middle-aged."
• New York cites Breaking Bad, especially Season 5's "Madrigal" which "contained not a single dull shot and built to an agonizingly tense hostage scene in a house," to argue that TV is very much a director's medium.
• Aaron Paul tells The New Zealand Herald, "I really can't wait for you and everyone to yell and scream and cry during the final eight episodes. It ends perfectly."
• Vince Gilligan, appearing at a writers' reunion for The X-Files, tells The Hollywood Reporter, "Everything we do on Breaking Bad, we learned on The X-Files."
• Dread Central reports that Vince Gilligan will receive the Dan Curtis Legacy Award at this year's Saturn Awards. Breaking Bad has already been honored with four nominations.
• Zap2it features a "really wonderful" video where celebrities like Bryan Cranston sing a song written by a 17-year-old who is dying of a rare bone cancer.
• Betsy Brandt talks to The Huffington Post about her new sitcom, The Michael J. Fox Show, and says, about Breaking Bad's final episodes, "They're so good. You feel so satiated and just well-fed as a viewer [at the end]."
• Check out Digital Spy for a photo of Betsy Brandt in her new sitcom, The Michael J Fox Show, and a preview clip of the comedy.
• The Daily Beast speaks with Jere Burns, who says he "owes his recent string of meaty roles to one career-reviving moment," in the Season 3 premiere where he played Jesse's Narcotics Anonymous leader.
• To stay up-to-date on the latest news about Breaking Bad, sign up for the weekly newsletter Breaking News.
Read More