Press
Warren Buffett Parodies Breaking Bad; Bryan Cranston Talks Politics With Politico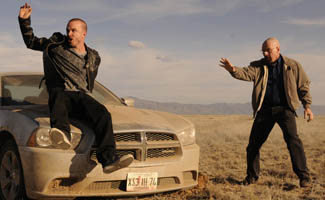 This week, the newest Breaking Bad send-up comes courtesy of billionaire Warren Buffett, while Bryan Cranston talks about his work with missing children, as well as some hot-button issues, with Politico. Plus, Vince Gilligan talks to Metro about finishing the series. Read on for more:
• Billionaire Warren Buffett treated investors to a Breaking Bad skit which featured Bryan Cranston and Aaron Paul — and peanut brittle instead of crystal meth, according to The New York Times.
• Bryan Cranston, in an interview with Politico, discusses teaching kids about child abduction in a way that's "not threatening and not scary." He talks to CNN about the abduction situation in Cleveland. Cranston was in Washington, D.C. as an honoree at the Hope Awards Gala hosted by the National Center for Missing & Exploited Children.
• Vince Gilligan speaks with Metro about wrapping up Breaking Bad and assures viewers they can "expect a real, conclusive ending."
• The Orange County (Calif.) Register's TV preview asserts, "The high point of the summer almost certainly will be the final eight episodes of [Breaking Bad], one of the all-time greats." (No Link.)
• Breaking Bad is one of Complex's top two most anticipated summer TV shows.
• USA Today trumpets Albuquerque as a tourist destination, noting, "Until the hit TV show Breaking Bad came along, I'm guessing most travelers didn't even give the state's largest city a second thought."
• The Australian recommends watching Season 4, calling it "some of the finest, most engaging TV made."
• Australia's The Age applauds, "Good television makes us think about deeper questions. Breaking Bad is great television."
• Vibe considers Breaking Bad — "challenging the concept of bad meaning good" — one of the smartest shows of the last two decades.
• Walter White is up for a Guys Choice Award, in "The Most Dangerous Man" category. His competition? The Walking Dead's Rick Grimes. Go to Spike.com to cast your vote.
• Celebuzz highlights "some pretty awesome" shots of Aaron Paul taken by photographer Terry Richardson
• To stay up-to-date on the latest news about Breaking Bad, sign up for the weekly newsletter Breaking News.
Read More