Press
Vince Gilligan, Bryan Cranston Tease Ending; Carl Reiner Applauds Breaking Bad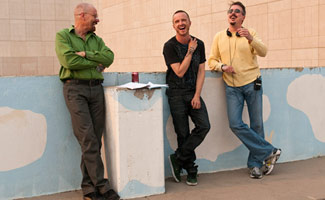 This week, Vince Gilligan and Bryan Cranston say a little bit about Breaking Bad's ending, while Carl Reiner has high praise for the drama. Plus, The Sydney Morning Herald calls the show "compelling," "hair-raising" and "brilliant." Read on for more:
• Vince Gilligan characterizes Breaking Bad's ending to The Daily Beast as "victorious."
• Bryan Cranston tells Buzz:60 that the show's fans "will say it's a fitting ending in a very Breaking Bad way."
• According to Parade, comedy legend Carl Reiner considers Breaking Bad "one of the best things ever made."
• The Sydney Morning Herald calls Breaking Bad "as compelling as it is hair-raising. It's brilliant television," while The West Australian credits the show's writers and "the skill of actor Bryan Cranston" for viewers' continued interest in Walt's fate.
• Breaking Bad is No. 1 on the TV summer preview list of the Toronto Sun, which asks, "Wouldn't it be a bizarre twist if this series had a happy ending?"
• RedEye thinks Breaking Bad and Mad Men are in a "two-way race for the best show of its era."
• TV Overmind wonders whether Walt will be dead or alive at the end of the series.
• ElectroJams listens to Above & Beyond's "Walter White" track, calling it "energetic and upbeat" with "elements of hard trance and even some electro in it."
• TV Overmind puts together an artistic tribute to Jesse, comprised of works by artists from all over the world.
• Indiewire notes that Alexander Payne's Nebraska, which features Bob Odenkirk, will be released on Nov. 22.
• To stay up-to-date on the latest news about Breaking Bad, sign up for the weekly newsletter Breaking News.
Read More