Press
NY Times Reports Bryan Cranston to Play LBJ; Den of Geek Still Shocked by Gus's Death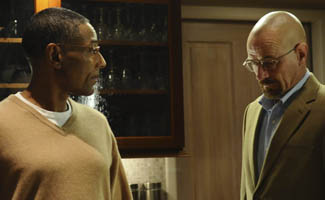 This week, The New York Times announces Bryan Cranston is taking on the role of Lyndon Johnson, while Den of Geek considers Gus's death to be on of TV's most shocking. Plus, Breaking Bad is up for three Monte Carlo TV Festival prizes. Read on for more:
• The New York Times reports that Bryan Cranston will play President Lyndon Johnson on stage in Boston this fall in a production titled All the Way.
• In a list of the most shocking TV character deaths, Den of Geek asserts that "as shocking deaths go, the one that's most likely to stick in your mind" is Gus.
• According to The Hollywood Reporter, the Monte Carlo Television Festival has nominated Breaking Bad for three awards: best drama series, best actor for Bryan Cranston and best actress for Anna Gunn.
• Indiewire cites Breaking Bad as an example of how TV "has become virtually indistinguishable from what's in movie theaters."
• Vince Gilligan will receive the Outstanding Television Writer Award from the Austin Film Festival in October, Variety reports.
• Breaking Bad producer Mark Johnson tells Flavorwirethat Vince Gilligan has "found a really brilliant way of finishing all of the characters, all of the stories, and all of the arcs."
• Vince Gilligan teases to Metro an uncensored bonus scene called "Chick 'N' Guns" that was created for the DVD of the first half of Season 5.
• According to The Hollywood Reporter, the North American rights to Joel Surnow's Small Time, starring Dean Norris, have been acquired by Anchor Bay Films.
• Bryan Cranston tells Gossip Cop, "I think the fans of Breaking Bad will be very satisfied with the ending."
• Wilmington, N.C.'s WECT reports that Dean Norris attended a rally organized to protest changes to the state's film incentive plan.
• IFC offers a closer look at its upcoming series, The Birthday Boys, which boasts Bob Odenkirk and Ben Stiller as executive producers.
• Bill Burr (Kuby) tells Austinist that being on Breaking Bad is like "getting to go backstage at your favorite rock show."
• To stay up-to-date on the latest news about Breaking Bad, sign up for the weekly newsletter Breaking News.
Read More