Press
Bryan Cranston on Time's Influential People List; The Simpsons Honors Breaking Bad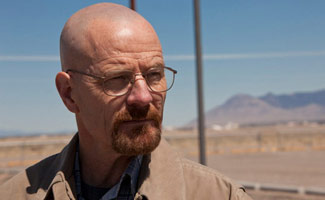 This week, Time names Bryan Cranston one of the world's 100 most influential people, while Breaking Bad gets a tribute from The Simpsons. Plus, Conan O'Brien conducts a Q&A with Vince Gilligan and several cast members, and there's lots of buzz from Entertainment Weekly and other news outlets surrounding the drama's August 11 return. Read on for more:
• Bryan Cranston is named one of the most influential people in the world by Time, and Jon Hamm pens his tribute, describing the Breaking Bad actor as "friendly, funny, gregarious, humble and lovely."
• The April 14 episode of FOX's The Simpsons featured an opening gag in homage to Breaking Bad, as well as cameos from Bryan Cranston and Aaron Paul, according to The Huffington Post.
• Indiewire spotlights video of a Q&A moderated by Conan O'Brien where Vince Gilligan and several cast members speak about their thoughts on the show, including Bryan Cranston's "Oh, yeah! Yep!" reaction to the series finale. Collider.com has a transcript of some of the conversation.
• Entertainment Weekly reports on the Aug. 11 debut of Breaking Bad's final episodes, while HitFix says the date, later than last year, "makes it a longer wait, but also (looking on the bright side) prolongs our relationship with Walter White and company a bit." The Hollywood Reporter, TVLine and TheWrap also covered the news.
• Indiewire predicts that Breaking Bad is a "lock" for a best drama series Emmy nomination.
• Bryan Cranston tweets the Heisenberg graffiti he encountered on the streets of Vancouver, according to Metro.
• Bill Burr (Kuby) tells Creative Loafing Atlanta why he loves Breaking Bad: "The writing is phenomenal, the way it's shot, and the choices of music that they use — everything is perfect." Miami New Times interviews Burr, who shares, "the rumor I've heard is you're not going to be disappointed with the ending."
• Physics Central interviews Breaking Bad's science adviser, Donna Nelson, who explains that Vince Gilligan is genuinely interested in science and uses "very flamboyant, exciting science that would really catch people's interest."
• Go to Wetpaint to vote for Breaking Bad's return as the summer premiere you're most excited for.
• Metal Underground spotlights a music video from Beyond Dishonor for their single, "Heisenberg," which is a tribute to Breaking Bad.
• Deadline reports that Bravo is "happy" with Rita, its first scripted pilot which stars Anna Gunn.
• To stay up-to-date on the latest news about Breaking Bad, sign up for the weekly newsletter Breaking News.
Read More