Press
Bryan Cranston Makes Meth With Seth Rogen; RJ Mitte Talks Final Episodes With HuffPost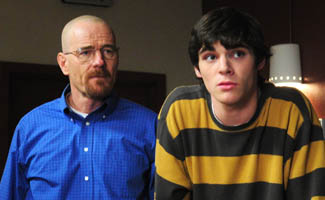 This week, Bryan Cranston makes meth with Seth Rogen in a Funny or Die video, while RJ Mitte talks about Breaking Bad's final episodes with The Huffington Post. Plus, Bob Odenkirk discusses Saul's arc with New York. Read on for more:
• Bryan Cranston appears in a Funny or Die video with Seth Rogen, complimenting the young actor on his meth-making skills.
• The Huffington Post interviews RJ Mitte, who discusses Breaking Bad's return: "I have no doubt in my mind that when the first episode releases people are just going to be flipping out of their minds."
• Bob Odenkirk speaks with New York about Saul's longevity: "No one thought the part was meant to last. For it to continue was always every time a surprise to me."
• /film talks Breaking Bad with Rian Johnson [at the 20-minute mark], who calls Season 3's "Fly" a "really unique directing experience" and shares that he has a sense of how the series will end.
• Bryan Cranston tells the Philippine Daily Inquirer that Heisenberg's black porkpie hat is "emblematic–it is a talisman."
• According to TheWrap, Giancarlo Esposito is open to working with Breaking Bad's cast, crew and writers again, though chances are "slim" he'd return in a flashback.
• Jessica Hecht tells Broadway.com what she's learned from Bryan Cranston during her time on Breaking Bad.
• Female First cites Breaking Bad as an example of a show that got better in Season 2, when it moved "from a very good series to an utterly mind blowing one."
• Bryan Cranston is joining the cast of Kung Fu Panda 3, which will be released in December 2015, according to The Hollywood Reporter.
• Zap2it spotlights RJ Mitte's "sexy" photoshoot for Dark Beauty Magazine, noting "the 20-year-old showed a side that fans haven't seen on cable television."
• According to The Hollywood Reporter, New Mexico's governor signed the so-called Breaking Bad bill into law, thus increasing subsidies on movie and TV productions filmed in the state.
• Go to ScreenRant for a Breaking Bad title sequence set to the theme song of NBC's The Office.
• Betsy Brandt (along with Mad Men's Jon Hamm) will be a guest on BBC America's The Nerdist on April 13, according to TV by the Numbers.
• According to Broadway World, Bryan Cranston is a guest voice on FOX's The Cleveland Show on April 14.
• The New Zealand Herald reports that Breaking Bad has been picked up by Sky TV's SoHo channel.
• To stay up-to-date on the latest news about Breaking Bad, sign up for the weekly newsletter Breaking News.
Read More