Interviews
Q&A – Melissa Bernstein (Co-Executive Producer)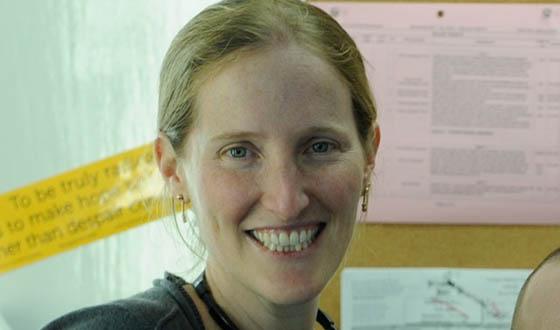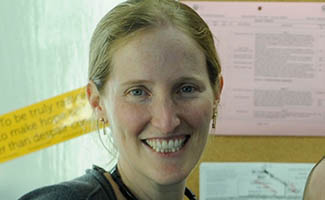 Breaking Bad's Co-Executive Producer Melissa Bernstein talks about the logistics of finding the right train to rob in Season 5 and her new original series Rectify, premiering next month on the Sundance Channel.
Q: From a producer's standpoint, what are some challenges that are unique to Breaking Bad?
A: One challenge is that Vince [Gilligan] spends most of his time in Los Angeles, because the writing and editing is based there, and we're shooting the show in Albuquerque. The show is quintessentially Vince Gilligan; he has a say on everything from what color shoes Skyler is wearing to the make of the drill that Walt is holding. To be able to maintain that with him 800 miles away is definitely a challenge. And some of that requires us really understanding what he will respond to.
Q: What are some things you've learned that he likes?
A: Vince is really into wide shots, and very interested in seeing Breaking Bad as a modern Western. In casting, he likes real faces, and in the set design and locations he likes things you don't ordinarily see on television. Callbacks are another thing: the color blue for Skyler, the color green for Walt — things that can go full circle in the series and speak to the thematics of the show.
Q: What are some of the riskier and more dangerous shots that you've green-lit for the show?
A: It's something you take very seriously as a producer and it's terrifying to put anybody's life at risk. In the Season 3 Premiere, where the cousins blow up the truck, that sequence was really scary. In the "Fly" episode in Season 3, Walt falls from the top level of the superlab down and hits a piece of equipment, and that was a real stunt guy. That was quite a fall and he absolutely could have hurt himself. Things with cars are also really dangerous. At the end of the day, as much as we're proud of it, it's still a television show and you want everybody to live.
Q: You're producing the original series Rectify for AMC's sister network, Sundance Channel. Do you see any similarities between that show and Breaking Bad?
A: They're both beautifully written and have compex characters at the center. Breaking Bad is so much of modern story about what it means to be a man in an extraordinary circumstance. And I think there's a similarity with Daniel Holden, who's at the center of Rectify. They're both men that have secrets and some parts of their personalities that they don't have access to, and I think the show gets to delve into those dark corners of their minds. That's a really fascinating place to be. Ray McKinnon — the showrunner of Rectify — and Vince Gilligan both want to write stories about characters that feel like people you could know and care about. Another thing they have in common is that they both have a dark sense of humor. There is very dark humor in both of those shows and observed human behavior and I think they have that in common.
VIDEO: The Making of Season 5 Episode 5, "Dead Freight"
Q: You're also creating a pilot for AMC called Halt & Catch Fire, about computer engineers in the 1980s. What draws you to shows about scientists?
A: Well, I think smart people — people that are very bright and have a lot of potential and then don't deliver on that potential — that's a fascinating character study. Both Walt and Gordon Clarke and Joe MacMillan, they're such intelligent people but they are their own worst enemies. They are flawed people who get in their own ways a lot even though they could change the world if they put their energy in the right places. And it's a lot more interesting to take apart a character that is as bright and complex as they are.
Q: Which character on Breaking Bad would make the best producer?
A: Skyler or Walt. With producing, you have to handle the micro but you also have to look after the macro. I think Walt, because he's so clever and he's such a great problem solver, and he has such an objective view of the long game. And I think Skyler because she's so analytical and good at seeing the forest for the trees.
Click here to read an interview with Breaking Bad's Creator, Executive Producer and Showrunner Vince Gilligan.
Read More