Press
Breaking Bad Receives Four Saturn Award Nominations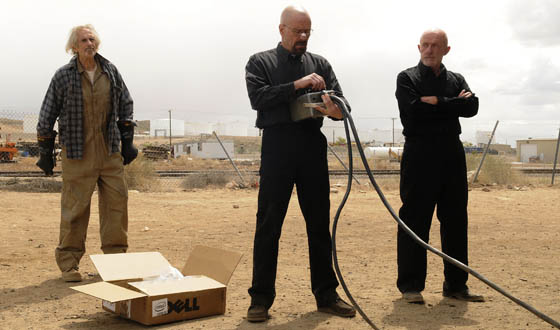 Today the Academy of Science Fiction, Fantasy & Horror announced its nominees for the 39th annual Saturn Awards, and Breaking Bad was honored with a total of four nominations for Best Television Presentation, Best Actor (Bryan Cranston), Best Supporting Actor (Jonathan Banks) and Best Supporting Actress (Anna Gunn).
Breaking Bad's nominations are among eleven garnered by AMC this year, with The Walking Dead receiving four nominations, The Killing receiving two and Hell on Wheels receiving one.
In the Best Television Presentation category, Breaking Bad will square off against HBO's Game of Thrones, TNT's Falling Skies, NBC's Mockingbird Lane, SyFy's Continuum, Starz' Spartacus: War of the Damned and Reelz' World Without End.
Bryan Cranston's competition is no less formidable: He'll face The Following's Kevin Bacon, Revolution's Billy Burke, Dexter's Michael C. Hall, Fringe's Joshua Jackson, Leverage's Timothy Hutton and The Walking Dead's Andrew Lincoln for the Best Actor trophy.
In the Best Supporting Actor category, Jonathan Banks faces off against Revolution's Giancarlo Esposito (Gustavo Fring on Breaking Bad), Spartacus' Todd Lasance, Fringe's John Noble, Hell on Wheels' Colm Meaney and The Walking Dead's David Morrissey.
Anna Gunn will join fellow actresses Jennifer Carpenter of Dexter, Sarah Carter of Falling Skies, Jessica Lange of American Horror Story, Beth Riesgraf of Leverage and Laurie Holden of The Walking Dead in the Best Supporting Actress category.
The 39th annual Saturn awards will be presented at a ceremony that's slated to take place this June.
Read More