Press
Pedestrian's Five Minutes With Bryan Cranston; Giancarlo Esposito Plays the Anti-Gus Fring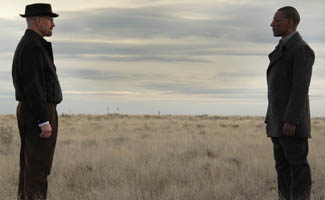 This week, Pedestrian spends five minutes with Bryan Cranston, while Giancarlo Esposito talks to TV Guide about playing the anti-Gus Fring. Plus, it's time to play Methopoly, a fan's Breaking Bad-based creation. Read on for more:
• Pedestrian spends five minutes with Bryan Cranston, talking about Argo and the importance of creating a backstory for the characters he plays.
• TV Guide speaks with Giancarlo Esposito about his latest turn on NBC's Community. He says, "It was a breath of fresh air to do something like this after playing Gustavo Fring for so long."
• If you can't get enough of Breaking Bad, then go to NME.com to learn about Methopoly (Monopoly with a Heisenberg theme).
• Box Office Prophets selects Breaking Bad as the best TV show of the year for the second consecutive year because it's "head and shoulders above anything else in television today."
• Digital Spy, Los Angeles Times, TV Guide and TVLine report on Breaking Bad's Writers Guild Award win for best dramatic series.
• The New Mexico Telegram reports that the so-called Breaking Bad bill, offering more incentives to TV shows that choose to film in the state, has cleared another hurdle.
• To stay up-to-date on the latest news about Breaking Bad, sign up for the weekly newsletter Breaking News.
Read More