Press
Vince Gilligan to Direct Finale; Anna Gunn, Bryan Cranston Preview Breaking Bad's End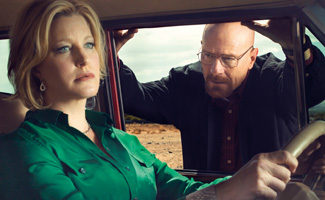 This week, The Hollywood Reporter reveals that Vince Gilligan will direct the series finale, while Anna Gunn and Bryan Cranston preview Breaking Bad's end. Plus, Dean Norris and Jonathan Banks are cast in post-Breaking Bad projects. Read on for more:
• The Hollywood Reporter breaks the news that Vince Gilligan will direct, as well as write, the series finale. "I love directing, I just don't get to do it often," he says.
• In a chat with TV Guide, Anna Gunn reveals that one series regular already knows that he or she will die before the series finale.
• The Hollywood Reporter and Entertainment Weekly report that Dean Norris will play the lead in CBS' Under the Dome, based on a Stephen King novel.
• Jonathan Banks will return to the small screen in a "central role" in the NBC pilot Bloodlines, according to Entertainment Weekly.
• Check out A.V. Club for a CollegeHumor video, "Let's Have a TV Baby," that compares deciding to watch Breaking Bad with deciding to have a baby.
• Someone dressed a cat like Walter White — and E! Online has the photographic evidence.
• What Culture lists the top 10 most twisted Heisenberg moments, detailing "some of the worst atrocities committed by our empire building anti-hero."
• Steven Michael Quezada talks to Albuquerque's KOAT-TV about winning a seat on the city's school board and what he sees as the challenges ahead.
• ScreenRant highlights Dig, a short film starring Mark Margolis, who "gives the same understated performance that earned him an Emmy nomination as the mute Tio Salamanca on Breaking Bad."
• TVLine reports that Matt Jones (Badger) has booked a role on a CBS pilot, Mom.
• To stay up-to-date on the latest news about Breaking Bad, sign up for the weekly newsletter Breaking News.
Read More