Press
Vince Gilligan Chats About Breaking Bad End With THR; Bob Odenkirk in Super Bowl Ad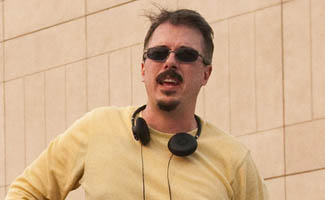 This week, Vince Gilligan chats with The Hollywood Reporter about Breaking Bad's final bow, while Bob Odenkirk appears in a Super Bowl ad for Samsung. Plus, Bryan Cranston and Anna Gunn make some post-Breaking Bad plans. Read on for more:
• The Hollywood Reporter speaks with Vince Gilligan, who talks about Breaking Bad's end, as well as Bryan Cranston's brilliance: "We have pretty much everything right now, we just need some connective tissue, we have to connect a few dots in the final episode but we pretty much have all of the major moments."
• Bleacher Report highlights Bob Odenkirk's appearance with Seth Rogen and Paul Rudd in a Super Bowl ad. Macgasm concedes the ad is "actually pretty funny." Forbes thinks the ad would have been better with the entire Breaking Bad cast.
• Deadline reports that Bryan Cranston has signed a deal with Sony Pictures Television to develop and produce new series projects.
• Anna Gunn has a post-Breaking Bad gig where she'll play a teacher in a drama for Bravo called Rita, according to TVLine .
• The New York Times uses Breaking Bad, The Walking Dead and Mad Men as examples of shows where entire seasons are "binge"-viewed in one sitting. Variety also looks at the binge-viewing phenomenon, citing the 50,000 Netflix subscribers that watched all of Season 4 the day before Breaking Bad's Season 5 premiere.
• The New York Times reports that Rian Johnson won a Directors Guild of America award for Season 5, Episode 4, "Fifty-One." Gold Derby wonders if Johnson is now the frontrunner for the Emmys. The Hollywood Reporter quotes Johnson saying he was "lucky and privileged to ride on the bus for a couple of stops."
• The Chicago Tribune interviews Marius Stan about playing Bogdan Wolynetz and his day job, as a scientist at Argonne National Laboratory, outside Chicago.
• Alabama Live talks to Lavell Crawford (Huell), who is full of praise for Bryan Cranston and Aaron Paul.
• CBS News reports that Steven Michael Quezada has officially won a seat on Albuquerque's school board.
• Jalopnik is impressed because Breaking Bad "might just have the best selection of cars on television right now."
• Kotaku imagines what Walt would look like in a Breaking Bad video game.
• To stay up-to-date on the latest news about Breaking Bad, sign up for the weekly newsletter Breaking News.
Read More