Breaking Bad Stars Seize the Silver Screen in 2013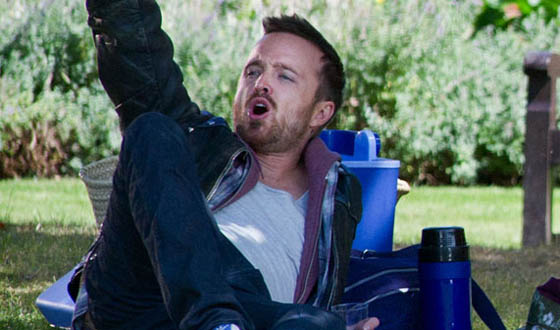 Happy New Year, Breaking Bad fans. You have a very exciting year to look forward to. Not only will 2013 bring the final eight episodes of your favorite TV series, but the stars of Breaking Bad are also surfacing on the big screen in big ways. Below is a list of movies slated for 2013 that star Bryan Cranston, Aaron Paul, Dean Norris and others from the show.
Bryan Cranston
Sounds like the upcoming comedy Get a Job is right in Bryan Cranston's wheelhouse. In this pic, he plays Roger, an out-of-work dad whose son has an epiphany about the right way to earn money. (Uh-oh…) Eye of Winter too finds Cranston back on the wrong side of the law as he plays a blind career criminal who kidnaps a motel owner (Star Trek Into Darkness's Alice Eve) and her daughter.
Aaron Paul
Aaron Paul scores a hat trick of indie projects: First, Decoding Annie Parker, where Paul plays the husband of a breast cancer patient (Samantha Morton) who wants to discover the mystery behind her illness. In Quad, Paul plays a salesman who becomes a quadriplegic after an accident. Finally, A Log Way Down finds Paul creating a surrogate family after a chance meeting three strangers (Pierce Brosnan, Rosamund Pike, Sam Neill) on New Year's Eve.
Dean Norris
It should be no surprise to Breaking Bad fans that Dean Norris makes one hell of a good cop, which is just what he'll be in the Nicolas Cage thriller The Frozen Ground (Out Mar. 7) about an Alaska State Trooper (Cage) out to bring a serial killer to justice. Then in Ridley Scott's The Counselor (Out Nov. 15), Norris will once again be chasing drug dealers: The film tells of a lawyer (Michael Fassbender) whose involvement with trafficking get him in over his head.
RJ Mitte
He may seem straight-laced on Breaking Bad, but in the upcoming indie drama The Devil's Ink, RJ Mitte gets a little bit more edgy: The film follows a group of gangsters/felons that congregate in a Los Angeles tattoo parlor and chronicles their descent into depravity.
Jonathan Banks
He doesn't crack a lot of smiles as Mike, but anyone who's seen the latest season of Parks & Recreation knows, Jonathan Banks has comedy chops. And he'll use them playing Paolo opposite Jason Bateman in the upcoming film Identity Thief (Out Feb. 8), about a mild-mannered businessman who hits the road to foil a crook that stole his personal information. In the indie comedy Scribble, Banks joins a dysfunctional group of aspiring novelists who must cope with the youngest member's overnight success.
Giancarlo Esposito
Breaking Bad creator Vince Gilligan has often said that he sees the drama as a sort of modern-day western, which makes Giancarlo Esposito's upcoming turn in the more traditional western They Die by Dawn all the more intriguing. In it, Esposito throws in with four outlaws who have bounties on their heads. Then in the indie thriller Poker Night, Esposito plays a detective who gives a fellow young officer clues to the whereabouts of a serial killer during their weekly card games.
Read More