Press
TV Overmind Names Aaron Paul Breakout Star; Betsy Brandt Cast as Michael J. Fox's Wife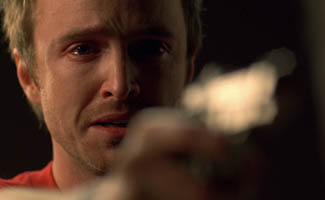 This week, TV Overmind names Aaron Paul a breakout star, while Betsy Brandt is cast as Michael J. Fox's wife in a new sitcom. Plus, The Sydney Morning Herald extols Breaking Bad as "extraordinary." Read on for more:
• Aaron Paul is one of TV Overmind's breakout stars who will cross over from TV to film because "His emotional performances have been the highlight of an already phenomenal show, and the guy's got range."
• TVLine reports that Betsy Brandt has landed the role of Michael J. Fox's wife on the actor's upcoming sitcom for NBC.
• Betsy Brandt talks to the New York Daily News about her part and credits Michael J. Fox with teaching her how to be funny.
• The Sydney Morning Herald says of Breaking Bad: "If you were to put forward a contention that we are in television's golden age, this extraordinary series would serve as your key line of reasoning."
• Female First lists five reasons why "Breaking Bad has become over the last few years one of the most critically lauded TV shows of all time."
• Aaron Paul shares some photos from the set, including one of his trailer and another of him with Lavell Crawford (Huell).
• According to The Hollywood Reporter, Bryan Cranston will be a presenter at this weekend's Screen Actors Guild awards show.
• Buzzfeed shares a video of every time Jesse says his favorite word.
• According to the Associated Press, the Albuquerque woman who makes blue meth candy, will start launching Breaking Bad-related limo tours.
• ComingSoon.net reports that The Counselor, a movie starring Dean Norris (and Brad Pitt), will be released on Nov. 15.
• To stay up-to-date on the latest news about Breaking Bad, sign up for the weekly newsletter Breaking News.
Read More