Games, Polls & Quizzes
What's Got Your Attention in the DEA Interactive Evidence Board for Breaking Bad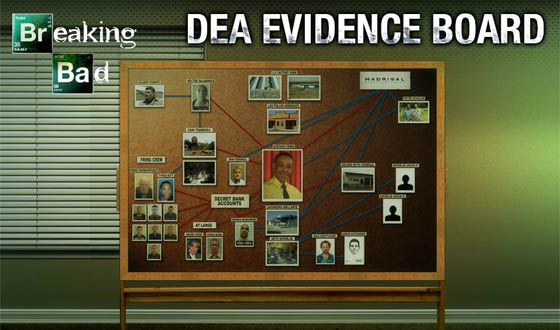 In Season 5, Hank has been piecing together Gustavo Fring's criminal empire with an intricate display of photos, evidence and other clues. The question at hand: Who is Heisenberg? Of course, Breaking Bad fans already know what Hank is beginning to realize — that his man is much closer to home. Below is a list of the most-viewed items from the Interactive Evidence Board on AMCtv.com as well as some of Hank's case notes on each.
1. Gustavo Fring
– Chilean National
– Co-Owner of Los Pollos Hermanos
– Deceased (Casa Tranquila explosion)
2. Ron Forenall
– Foreman at Madrigal's chemical shipping hub, Houston
– Arranged shipments to Duane Chow's chemical depot
– In custody
3. Mike Ehrmantraut
– Head of Corporate Security for Los Pollos Hermanos
– Private Investigator and former Philadelphia P.D. officer
– Offshore account for 2 million dollars held in his granddaughter's name, set up by Gustavo Fring. No activity in the account
4. Gale Boetticher
– Probable chemist for Fring organization
– Education paid for by Gus Fring
– Murder still unsolved (Click here to examine the Gale Boetticher Interactive Case File)
5. Unsub Bystander
– Boetticher's suspected killer
– Reward given for information leading to whereabouts.
6. Peter Schuler
– Colleague of Gus Fring's
– Probable contact point between Madrigal and Fring operation
– Deceased (suicide)
7. Superlab Unsub #1 & #2
– Possible methamphetamine cooks for the Fring organization
– Deceased, remains unidentifiable.
8. Tyrus Kitt
– Member of Los Pollos Hermanos security staff
– Killed with Fring at Casa Tranquila
– Unknown connection with Salamanca
9. Golden Moth Chemical
– Chemical supplier for Gus Fring's organization
– Run by Duane Chow
10. Eladio Vuente
– Leader of a Mexican drug cartel
– Recently murdered by poison along with his Capos
– Suspected connection to Fring operation, possibly related to recent violence in New Mexico
Want more info? Click here to access the DEA Interactive Evidence Board.
Read More