Press
Breaking Bad Named Best of 2012 by The Hollywood Reporter, EW, Salon, Wired and More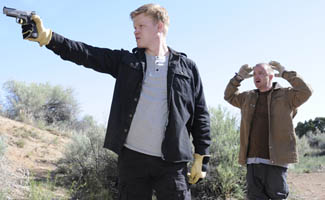 This week, Breaking Bad is named the best TV show of 2012 by The Hollywood Reporter and is considered one of the best by several other publications, including Entertainment Weekly, Salon, Wired and more. Plus, Slate cites the boy on the motorbike in Episode 5 as a pivotal moment for the drama. Read on for more:
• Breaking Bad is The Hollywood Reporter's top show of the year: "It is by far the most consistently great drama, episode-to-episode, season-to-season, of any show on television."
• Entertainment Weekly rates Breaking Bad the year's No. 2 show, describing it as "a series that winds its tension ever tighter and tighter."
• Salon's Blue Glow Awards ranks Breaking Bad at No. 3, noting, "No series has ever snatched a character away from an audience that loved him and then made that character so irredeemable. None."
• In its list of 2012's best TV, Wired honors Breaking Bad for "heading for full Heisenberg."
• Breaking Bad lands on the Miami Herald's list of the year's best TV because "no television series has ever done an on-screen transformation as dramatic or chilling as the one we've seen in Bryan Cranston."
• Holy Moly applauds Breaking Bad as "the best TV to come out of the English-speaking world ever."
• Slate's year in TV moments includes the boy on the motorbike from Season 5, Episode 5, "Dead Freight" because the boy's "murder was the show's fulcrum last summer, at once dividing Jesse and Walt into hand-wringer and predator."
• The Hollywood Reporter features some Dean Norris tweets from the Breaking Bad set and concludes, "Look out Aaron Paul. It looks like you have some serious competition for the title of most entertaining Breaking Bad tweeter."
• Vince Gilligan talks to Fast Company's Co.Create about writing Breaking Bad's ending and bidding farewell to Walt.
• Variety assesses Bryan Cranston's chance at winning the SAG award for best drama actor thusly: "Led by Cranston's tour de force perf, Breaking Bad is bullet-proof with crix and bizzers." And, judging Breaking Bad's odds of garnering the Golden Globe award for best drama, the publication deems the show's competitve edge as "jaw-dropping storytelling anchored by standout performances." (No link)
• New York highlights a Christmas card featuring Jesse and this greeting: "Yeah, bitch! Christmas!"
• Uproxx reports that Breaking Bad collectibles, such as mini-figures, bobbleheads, paperweights, and plush toys, will be available next year.
• To stay up-to-date on the latest news about Breaking Bad, sign up for the weekly newsletter Breaking News.
Read More