Press
Stephen King and Time Call Breaking Bad One of Year's Best; Aaron Paul Chats With GQ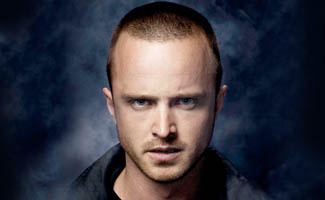 This week, Stephen King and Time call Breaking Bad one of the year's best shows, while Aaron Paul chats with GQ about savoring the drama's scripts. Plus, Stephen Colbert engineers a Breaking Bad/Downton Abbey crossover. Read on for more:
• In Entertainment Weekly, Stephen King rates Breaking Bad the No. 2 TV show in 2012. (No link)
• One of Time's best shows of the year is Breaking Bad, which "proved that a series could make a character wholly despicable yet utterly fascinating."
• Aaron Paul tells GQ how he savors each new Breaking Bad script because "the faster I rush through it, the faster it ends — and I want to make it last as long as possible."
• HitFix highlights Breaking Abbey, Stephen Colbert's homage to Breaking Bad and Downton Abbey: "It's a fun spoof, and what makes it work is how much it follows what we know about both shows." TVLine speculates, "Either the Albuquerque drug scene has gotten really civilized, or Downton Abbey is in worse shape than we thought."
• HitFix's First Annual Television Critics' Poll names Breaking Bad the best show of the year. Breaking Bad also tops NPR's list of 2012's best: "It takes a genuine work of art to top a list like this." The drama is IGN's best TV series for the fourth consecutive year.
• Antiheroes, like Walt, landed at No. 6 on TV Guide's top 10 list of 2012: "Walter White's descent into monstrous criminality reached its chilling nadir." Walt is also one of People's best TV bad boys: "Bryan Cranston makes this creep fascinatingly repugnant." (No link)
• Breaking Bad makes it onto The Daily Beast's year-end best list: "I will sorely miss the saga of the chemistry teacher/cancer patient/drug mogul/murderer/lying bastard when it's all said and done."
• HitFix ranks Breaking Bad as one of 2012's best, noting that the first half of Season 5 "astounded," with "one image after another that's going to haunt my dreams." The Oregonian awards Breaking Bad the No. 2 spot on its list of top shows, calling it an "amazing show — with its bracingly original blend of horror and humor."
• The Pittsburgh Post-Gazette gives the show a spot on its top-ten list: "Surprising in its plot twists and convincing in its character arcs, Breaking Bad hasn't broken despite ample opportunity."
• The Boston Globe list of the year's best episodes includes Season 5, Episode 4, "Fifty-One" because "this hour was a standout, as it put aside the action and zeroed in on the tense coexistence of Skyler and Walt." Episode 5, "Dead Freight" receives an honorable mention. Today's must-see moments of the year includes the entire hour of "Dead Freight," which it deems "simply amazing." "Fifty-One" also showed up on Indiewire's list of 2012's best because it "brilliantly showcased how little time had passed on the show from when Walter White went from downtrodden high school teacher to meth manufacturer."
• A photographer talks to the Los Angeles Times about shooting Bryan Cranston and Giancarlo Esposito for a photo that was an "illustration" of the Season 4 finale, "Face Off." (No link)
• Dean Norris joins Twitter, only to be threatened by fellow user, Bryan Cranston, reports Hypable.
• HitFix checks out a mash-up of Breaking Bad and The Wire's opening credits. Fast Company's Co.CREATE calls it "shockingly well-done."
• The Hollywood Reporter commends Golden Globe voters for "finally nominating AMC's Breaking Bad, after a full four seasons of brilliance have gone by. Better late than never." E! Online welcomes Breaking Bad to the best drama category: "It's nice to finally see you after consistently being one of the best shows on television." Entertainment Weekly says, "given the Globes long track record of ignoring the AMC drama in this category, doing the right thing qualifies as a shocker."
• ScreenCrush takes a look at Dean Norris's earlier work on the big screen.
• CarterMatt reports that Aaron Paul has welcomed The Office's John Krasinski to Twitter.
• Guest of a Guest reports on Aaron Paul's efforts to save Henry's Tacos in Los Angeles.
• According to the Albuquerque Journal, Steven Michael Quezada is running for a school board seat in New Mexico.
• To stay up-to-date on the latest news about Breaking Bad, sign up for the weekly newsletter Breaking News.
Read More