Press
Bryan Cranston Talks to Deadline; Breaking Bad One of The Associated Press's Top TV Moments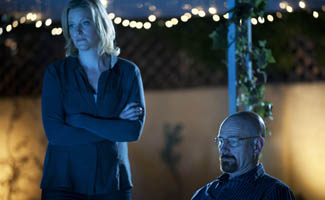 This week, Bryan Cranston talks to Deadline about Breaking Bad and Argo, while Breaking Bad is included in The Associated Press's top TV moments this year. Plus, The Washington Post ranks the drama as the top TV show of 2012. Read on for more:
• Bryan Cranston speaks with Deadline about Argo and how Breaking Bad "has opened up the level of opportunity for me, and I couldn't be more appreciative."
• Breaking Bad is included in The Associated Press' top 10 TV moments of the year: "It's notable not only for how twisted, funny and shocking it is, but also for how it keeps on upping the ante."
• The Washington Post names Breaking Bad the best TV show of 2012 (followed by Mad Men at No. 2 and The Walking Dead at No. 3). The Huffington Post also ranks Breaking Bad ("dark, restrained and impeccably made") among the year's 10 best TV shows. (Mad Men made the list too.)
• Entertainment Weekly ranks Walt vs. Mike in its list of 2012's best TV feuds, noting it will only be consoled by Mike's death if Jonathan Banks "gets an Emmy to match Cranston's three statuettes."
• A.V. Club interviews Tess Harper (Jesse's mom), who says, of Breaking Bad, "I'm just glad I could touch it and can say I was part of it. It's just historic television."
• Go to Screen Rant to vote for Breaking Bad as the best TV series of the year.
• Variety notes that Breaking Bad dominated the Writers Guild Awards nominations.
• Breaking Bad (and Mad Men and The Walking Dead) received awards from the American Film Institute for outstanding achievement in television, reports the Los Angeles Times.
• The Huffington Post offers a look at Breaking Bad-themed cupcakes enjoyed by Bryan Cranston, Aaron Paul and the rest of the cast.
• New York Magazine mourns the loss of TV characters this year, including Mike.
• Entertainment Weekly has a video of Breaking Bad reimagined as a Lifetime network movie.
• One of the stars of Downton Abbey jokes that the drama is "Breaking Bad with tea instead of meth," according to The Hollywood Reporter.
• Cincinnati.com reports that Breaking Bad (followed by Mad Men) was the top time-shifted TV show of the year, according to Nielsen.
• Giancarlo Esposito speaks with Canada's The (Victoria) Times Colonist about his new film, Poker Night, and playing Gus.
• Missing Breaking Bad? Then check out a "hilarious" blooper reel from Season 4 at The Huffington Post.
• Uproxx features some "amazing" Season 5 behind-the-scenes photos from AMC.
• Zap2it suggests buying a Breaking Bad magnetic poetry kit this holiday season for all the Walt and Jesse fans in your life.
• USA Today reports that Aaron Paul is up-in-arms about the imminent closing of a Los Angeles taco institution — and plans to eat there on Sunday.
• Bob Odenkirk shares his favorite pop culture moments of 2012 with A.V. Club.
• Digital Spy has an Argo behind-the-scenes featurette which includes Bryan Cranston recalling the real-life events depicted in the film.
• To stay up-to-date on the latest news about Breaking Bad, sign up for the weekly newsletter Breaking News.
Read More