Press
THR on Breaking Bad's Satellite Award Noms; Aaron Paul Tweets About Jesse Pinkman Script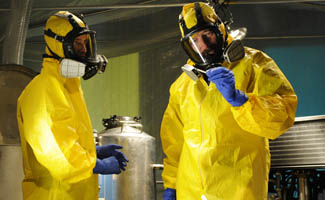 This week, Breaking Bad is in the running for three Satellite Awards, as reported by The Hollywood Reporter, while Aaron Paul tweets a sneak peek of Jesse Pinkman's script. Plus, check out photos from the Walter White look-alike contest judged by Bryan Cranston himself. Read on for more:
• The Hollywood Reporter has Satellite Award nominations and Breaking Bad has been honored with three nods, including one for the Best Drama Series award. Bryan Cranston (Walter White) and Giancarlo Esposito (Gustavo Fring) received nods in the Best Actor in a Drama Series and Best Actor in a Supporting Role categories, respectively.
• The Huffington Post has Aaron Paul's tweets about the Breaking Bad series finale. Paul includes a sneak peek of a small portion of the script showing where Jesse Pinkman delivers his infamous line, "b*tch!"
• New York Magazine says of Breaking Bad, "The cliff-hanging gangster melodrama is always a half-step ahead of its audience." [No link]
• Digital Spy reports that Giancarlo Esposito will join the cast of indie thriller, Poker Night. Esposito will play Detective AJ Bernard.
• New York Magazine includes Walter White Jr. on their Kids of the Year list. [No link]
• Examiner.com reports that Bryan Cranston's Argo will receive an Ensemble Performance Award at Palm Springs Film Fest. Cranston will attend with co-stars Ben Affleck and Alan Arkin to accept the award.
• Check out The Huffington Post's humorous video that reimagines Breaking Bad as a sitcom.
• Variety praises Bryan Cranston's performance in Argo. Although cast-mate John Goodman didn't have any scenes with Cranston, he was mesmerized by the work of Cranston, Variety reports.
• The CableFAX Program Awards announced their winners and Breaking Bad was honored in the following categories: Platinum: Best Cable Program and Platinum: Best Showrunner Honorable Mention: Vince Gilligan. [No link]
• Check out ABQ Journal's photos from the Walter White look-alike contest, judged by Breaking Bad's own Bryan Cranston himself. The top 10 contestants got Breaking Bad swag, while the winners will also get to have lunch on the set of Breaking Bad.
• Brisbane Times includes Breaking Bad on their list of Best TV Show of 2012.
• To stay up-to-date on the latest news about Breaking Bad, sign up for the weekly newsletter, Breaking News.
Save
Read More