Press
Bryan Cranston Chats With The New Yorker, GQ Calls Aaron Paul "Stylish"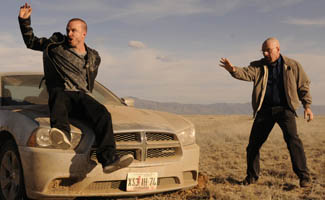 This week, Bryan Cranston chats with The New Yorker, while GQ includes Aaron Paul in a gallery of the week's most stylish men. Plus, Giancarlo Esposito has a soft spot for Gus. Read on for more:
• The New Yorker speaks with Bryan Cranston, who talks a little Breaking Bad: "At first, Walt's emotional core wasn't available to me, because he was so depressed he was numb. But now it's all coming out…"
• GQ labels Aaron Paul one of the week's most stylish men, describing him as "Flecking awesome all round in Burberry Prorsum."
• Giancarlo Esposito tells Today.com that Gus is his favorite villain: "I feel like he was a bad guy who was in control and had the most intelligence of any character I've ever played."
• Variety reports that Bryan Cranston will star in Eye of Winter, an independent film.
• Abu Dhabi's The National showcases opportunities for disabled actors, calling RJ Mitte a "disabled advocate and charismatic rising star."
• One of the dozen TV shows featured in The Revolution Was Televised: The Cops, Crooks, Slingers and Slayers Who Changed TV Drama Forever, by HitFix's Alan Sepinwall, is Breaking Bad, according to The Huffington Post while The New Yorker calls the book "a smart and substantive walk through the past fifteen years of television drama."
• Deadline reports that Jesse Plemons (Todd) has been cast in an HBO pilot called The Missionary.
• To stay up-to-date on the latest news about Breaking Bad, sign up for the weekly newsletter Breaking News.
Read More