Press
Vince Gilligan Talks Finale With Huffington Post; Bryan Cranston on Walt's Fate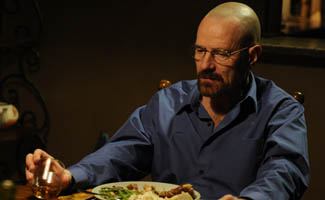 This week, series creator Vince Gilligan talks with the Huffington Post about bringing Breaking Bad to an end, while Bryan Cranston talks with Metro about what's in store for Walter White. Plus Aaron Paul chats up his new movie, Smashed. Read on for more news.
• Series creator Vince Gilligan tells the Huffington Post about the process of bringing his critically acclaimed five-season story to an end. "We're struggling to make it as good as we possibly can, and to think through all the consequences," he says. "It's sort of like playing a game of chess."
• Bryan Cranston chats with Metro about the fate awaiting Walter White, saying, "I don't think there's any repentance to be had, that ship sailed a long time ago."
• Aaron Paul dishes to the Dallas Morning News on Breaking Bad and his new film, Smashed.
• The Hollywood Reporter features an interview with Bryan Cranston about the show's finale and playing pranks on the set with Aaron Paul. "Any chance I can get I make [him] laugh," Cranston gushed.
• 30 Rock star Jack McBrayer tells Vulture he was starstruck when working with Bryan Cranston. "He is the best, and the scenes we did together, I was dying. I messed up a lot of takes, because I just kept laughing," he says. Cranston plays McBrayer's stepfather on the show.
• GoldDerby thinks Breaking Bad has a good shot at next year's Emmy Awards and shares their predictions for this year's Golden Globes and SAG Awards.
• Cranston tells the Guardian about how playing Walter White changed his life. "I knew Vince wanted to go from Mr. Chips to Scarface," he said of the evolution of his character.
• International Business Times mentions Breaking Bad in their article about scientists developing a methamphetamine vaccine to treat addiction.
• According to Digital Spy, Matt Smith (of Doctor Who) named Breaking Bad when asked about his dream crossover episode. "I'd love the Doctor to meet Heisenberg in Breaking Bad," he enthused.
• Check out Today's photo of a Breaking Bad-inspired Halloween costume.
• Check out Sabotage Times' collection of photos from an art exhibition inspired by Breaking Bad. The Exposure Gallery in London is showing artworks inspired by iconic scenes and characters from the series.
• HispanicBusiness.com highlights Ashley Kajiki and her future plans for the big screen.
• CarterMatt.com shares their predictions for how Breaking Bad's Season 5 will end.
• CarterMatt.com also talks with Betsy Brandt about her interest in seeing the show go on in some form after the last episode has aired.
• Check out TeeFury's Breaking Bad-themed shirt on Geeks of Doom: it's called Walt and the Bad Breakers.
• To stay up-to-date on the latest news about Breaking Bad, sign up for the weekly newsletter Breaking News.
Save
Read More