Press
Breaking Bad Producers Receive PGA Nomination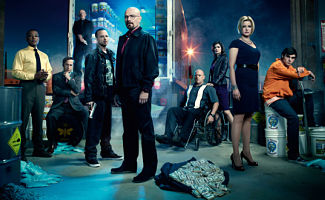 Today the Producers Guild of America announced their nominess for the 24th annual Producers Guild Awards, and Breaking Bad was honored with a nomination for the prestigious Norman Felton Award for Outstanding Producer of Episodic Television, Drama.
Breaking Bad's producers — Melissa Bernstein, Sam Catlin, Bryan Cranston, Vince Gilligan, Peter Gould, Mark Johnson, Stewart Lyons, Michelle MacLaren, George Mastras, Diane Mercer, Thomas Schnauz and Moira Walley-Beckett — will face stiff competition for the award. The creative teams behind PBS's Downton Abbey, Showtime's Homeland, HBO's Game of Thrones and AMC's own Mad Men are also nominated. (Click here to learn more about Mad Men's nomination.)
The winners will be announced during a ceremony at the Beverly Hilton Hotel on Sat., Jan. 26.
Read More