Press
Deadline on Breaking Bad's PGA Nomination; Aaron Paul on Final Season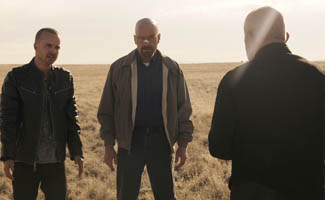 This week, Breaking Bad receives a nomination for this year's Producer Guild Awards, while Aaron Paul tweets about what's in store for the series' finale. Plus, Bryan Cranston talks to Variety about his fatherly TV roles. Read on for more news:
• Deadline has the nominations for this year's PGA Awards and Breaking Bad is in the running for the prestigious Norman Felton Award for Outstanding Producer of Episodic Television, Drama. CBS News, Collider, CNBC, E!, Los Angeles Times, Variety, and Yahoo! also report on the news.
• Vulture has Aaron Paul's tweets about the final season of Breaking Bad. "The tension in this episode alone made my head explode a little bit," he wrote.
• Bryan Cranston gushes to Variety about his roles as a father in both Breaking Bad and Malcolm in the Middle. "My love for them wasn't just on camera, but I developed a paternal feeling for them off camera," he said. [No link]
• The Huffington Post reviews Alan Sepinwall's book The Revolution Was Televised which singles out Breaking Bad as an influential and ground-breaking show.
• CNN and IGN announce Breaking Bad producers Mark Johnson and Melissa Bernstein's new show Halt & Catch Fire. The drama pilot was recently ordered by AMC.
• Breaking Bad's Steven Michael Quezada (Gomez) chats with San Antonio Current. "People are going down!" he said when asked about the series' finale.
• Sabotage Times shares their picks for Breaking Bad's most shocking moments so far.
• The Cornell Daily Sun lists Breaking Bad among their Top 10 TV Shows of 2012.
• To stay up-to-date on the latest news about Breaking Bad, sign up for the weekly newsletter Breaking News.
Save
Read More