Press
GQ Checks Out Bryan Cranston's Best Roles; Gus's Death One of E!'s Most Gruesome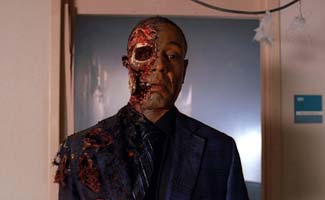 This week, GQ takes a look at Bryan Cranston's best roles, while E! Online pronounces Gus's death as one of TV's most gruesome. Plus, New York helps you carve a Walter White jack-o'-lantern. Read on for more…
• GQ provides a look at the most memorable roles of Bryan Cranston, "one of the finest character actors of his generation."
• Gus makes it onto E! Online's list of TV's most gruesome deaths: "After straightening his tie, he slumps over dead, making his one of the most memorable TV deaths in recent small-screen history."
• Vulture provides stencils for "jack-o'-lanterns of television's most-frightening faces," including Walter White.
• Bryan Cranston tells TBI that Breaking Bad has "certainly raised the bar; everything from here on in will be measured against Breaking Bad."
• RJ Mitte opens up to HLN's Dr. Drew about being bullied as a kid.
• The Los Angeles Times highlights some of the familiar TV faces that pop up in Steven Spielberg's Lincoln, including David Costabile (Gale).
• ScreenCrush features some of Aaron Paul's pre-Breaking Bad work, "before you knew his name."
• The Houston Press's look at what was on TV two decades ago uncovers The Ben Stiller Show, which "broke comedy ground" and featured Bob Odenkirk.
• New York's review of last week's episode of NBC's The Office notes, "For an episode guest-directed by Bryan Cranston, this episode of The Office was surprisingly light on people getting shot without warning." ScreenCrave says that "just knowing the fine actor was steering the ship…makes one like the episode even more!"
• According to TV Guide, Betsy Brandt will make an appearance on NBC's Parenthood later this season, playing the ex-wife of Ray Romano's character.
• Deadline reports that Comedy Central will air Triptank, an animated series featuring shorts from Bob Odenkirk.
• To stay up-to-date with all the latest Breaking Bad news, sign up for the weekly Breaking News.
Read More