Press
Bryan Cranston Named a Top Man By AskMen; Aaron Paul Nabs Need For Speed Lead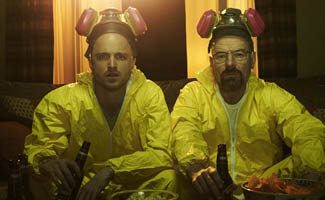 This week, Bryan Cranston is named one of AskMen's top 49 men, while Aaron Paul nabs the lead in a new film, Need For Speed. Plus, Cranston and Paul do several interviews about Breaking Bad's imminent end and their new movies. Read on for more:
• Bryan Cranston is No. 21 on AskMen's list of the year's top men, based on his "late-career resurgence" and his ability to "do justice to the genius behind that impossibly blue crystal methamphetamine."
• Entertainment Weekly reports that Aaron Paul has been cast as the lead in an upcoming film called Need For Speed, inspired by the Electronic Arts video game series.
• The Hollywood Reporter speaks with Bryan Cranston about his upcoming life post-Breaking Bad. He describes the show's experience as "just so wonderful." Den of Geek also talks to Cranston in-depth about the show.
• Esquire asks Aaron Paul about Jesse's ultimate fate, as well as his new film, Smashed. Paul also appears on the October cover of Manhattan and discusses his Breaking Bad audition, among other things. The Guardian interviews Paul, contending that Breaking Bad's final bow "will mean the end of a brilliant part for Paul."
• The Arizona Republic interviews Bryan Cranston, who says about Walt, "I'm just going to let him die." Cranston tells The Fresno Bee that he can walk away from Breaking Bad because Vince Gilligan "deserves to have the show end his way."
• On separate occasions, Bryan Cranston and Aaron Paul talk to ESPN. Cranston discusses the Los Angeles Dodgers, as well as what he thinks it will be like when Breaking Bad ends. Paul talks about the Los Angeles Angels and the difference between preparing for his roles on Breaking Bad vs. Smashed.
• The Breaking Bad Art Project, comprised of works inspired by the show, has moved to London — and Bryan Cranston and Aaron Paul were there to check it out, according to The Hollywood Reporter.
• ScreenRant uses an infographic to catalogue Walt's 22 loose ends that are "threatening to bring him and his criminal empire to an end."
• The Daily Mail spotlights an Albuquerque-themed bus tour of Breaking Bad-related locations, like Jesse's home and Los Pollos Hermanos.
• WebProNews highlights the fact that Breaking Bad's fans have donated to SaveWalterWhite.com and raised $125,000 for the National Cancer Coalition.
• Netflix will premiere the first half of Season 5 in the U.K. and Ireland on Nov. 1.
• Gold Derby thinks that Argo, co-starring Bryan Cranston, is a top contender for a best film ensemble nod from the Screen Actors Guild — and believes Cranston could land a best supporting actor Golden Globe nomination. Meanwhile, the San Jose Mercury News applauds Cranston's "searing performance" in the movie. The Washington Post recommends seeing Argo because of all the "faces you recognize from great TV shows," like Cranston.
• The Huffington Post has a clip of Bryan Cranston's performance in last week's episode of NBC's 30 Rock, observing, "It was certainly a lot of fun watching Cranston flex those comedy muscles he honed to perfection on Malcolm in the Middle." According to Paste, "It was fun to see Cranston, who has been so terrifying on Breaking Bad, whooping it up on 30 Rock." CarterMatt.com demands, "Give Bryan Cranston another Emmy!"
• Betsy Brandt will participate later this month in a reading of A View of the Mountains at the Pasadena Playhouse, Theater Mania reports. Also in the cast is Jane Kaczmarek, Bryan Cranston's on-screen Malcolm in the Middle wife.
Read More