Press
THR Names Vince Gilligan a Top Showrunner; Bryan Cranston Visits Tonight Show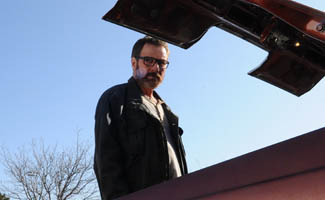 This week, Vince Gilligan is named a top showrunner by The Hollywood Reporter (and also visits Comedy Central's Stephen Colbert), while The Tonight Show hosts Bryan Cranston. Plus, The New Yorker runs a Breaking Bad-esque cartoon — and Bob Odenkirk pens an article for the magazine's Shouts & Murmurs humor section. Read on for more:
• Vince Gilligan, named one of The Hollywood Reporter's top 50 showrunners, says The Twilight Zone inspired him to write, calling it "so marvelously constructed."
• Promoting his new film, Argo, Bryan Cranston visits The Tonight Show and tells Jay Leno, "It is the role of my life. Walter White — I will never have a greater role than that." Entertainment Weekly also has a clip of Cranston dodging Rebel Wilson's shoes during the talk show's next segment.
• During Vince Gilligan's appearance on Comedy Central's The Colbert Report, Stephen Colbert points out the uncanny resemblance between Gilligan and Walt.
• A cartoon in The New Yorker references Breaking Bad, depicting a chemistry teacher telling his students, "For the hundredth time — I have no idea how to make crystal meth."
• Mark Margolis explains acting without words to Fast Company's Co.Create , with tips like Act Like You're Trying to Do Something But Can't.
• In The New Yorker, Bob Odenkirk satirizes negative reviews on Amazon.com, observing that writing them "cheered me on down days…"
• According to hecklerspray, Saul needs a spin-off focusing on his other cases and his life away from Walt and Jesse.
• Cine-Vue's review of the Season 4 DVD observes that Breaking Bad "continues to push the envelope of serious, edgy television drama." The Telegraph calls Breaking Bad "easily one of the most interesting and challenging television shows of recent years." Digital Spy says, "One of the best shows on TV gets the home entertainment release it deserves, and if you're still a Breaking Bad virgin — shame on you."
• The Huffington Post features three figurines of Walt that now sit in Vince Gilligan's collection. CSICON calls the figures "so painstakingly detailed that it's eye-ball gouging incredible."
• Check out Entertainment Weekly to learn about Mark Margolis' upcoming role on FX's American Horror Story: Asylum.
• Bob Odenkirk's recent guest-star role on Adult Swim's NTSF:SD:SUV made the episode "worthwhile," according to Toon Zone.
• A Hollywood.com review of a recent episode of CBS's How I Met Your Mother featuring Bob Odenkirk notes, "God, I miss Breaking Bad…"
• Movie 43, an ensemble comedy containing shorts directed by the likes of Bob Odenkirk, will open on Jan. 25, 2013, according to Entertainment Weekly. Indiewire has some photos.
• Indiewire reports that Giancarlo Esposito is set to star in an erotic thriller called Burn that will also feature Danny Glover.
Read More