Press
Aaron Paul Applauded for Emmy Speech, Fashion; Giancarlo Esposito on Tonight Show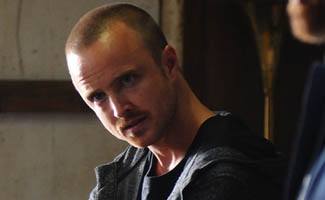 This week, Aaron Paul triumphs on Emmy night and is applauded for both his speech and fashion, while Giancarlo Esposito is a guest on The Tonight Show. Plus The Daily Beast likes the Emmys' Breaking Bad spoof. Read on for more Breaking Bad news.
• The Huffington Post thinks Aaron Paul's Emmy speech for his win for best supporting actor included one of the evening's most quotable moments, when he thanked Vince Gilligan "for not killing me off." The San Jose Mercury News chooses Paul as one of the ceremony's best dressed because he "cleans up quite well. Plus, he looks so dang happy."
• According to the Los Angeles Times, Aaron Paul expected Giancarlo Esposito to triumph in their category. Meanwhile, Esposito tells The Hollywood Reporter that the "best man won." The hug between Paul and Esposito after Paul was announced the winner was one of Hollywood.com's best moments of the Emmys.
• Giancarlo Esposito visits Jay Leno on The Tonight Show, talking about his background and Gus. He says, "Since Breaking Bad, life has changed for me. People call me 'sir' everywhere I go."
• The Daily Beast calls Bryan Cranston and Aaron Paul's spoof of Breaking Bad, à la The Andy Griffith Show, at the Emmys "one of the funnier moments of the night," and Today.com thought it was one of the evening's funniest skits.
• E! Online interviews Aaron Paul after his Emmy win for best supporting actor. Beforehand, on the red carpet, Paul speaks with Extra about the chances of a Breaking Bad movie happening once the series wraps up — and Digital Spy reports that Paul is protective of Jesse.
• RJ Mitte kept a video diary of his time at the Emmys for New York — and it features cameos by Dean Norris and Aaron Paul, who wishes he had some scenes on the show with Mitte ("It's upsetting. It doesn't make sense").
• Dean Norris tells Popsugar that Breaking Bad has "penetrated the cultural Zeitgeist in a way that we didn't think was possible the first two years" after garnering both critical acclaim and fan support.
• Bob Odenkirk and Jonathan Banks discuss Mike's death with TVLine. Odenkirk points out that Mike "was the only guy living in reality."
• "I hope everybody's not dead!" Betsy Brandt says to Popsugar about how the series will end. Brandt elaborates to Celebuzz: "I've always said that I want Walt to win, whatever that means. But it gets harder to want Walt to win every season." Aaron Paul tells Wetpaint the series will not have a "fairy-tale ending" and shares with Popsugar that he thinks Jesse "deserves to survive" the end of the show. Anna Gunn wonders to Wetpaint if Skyler and Walt "will be able to sort of maybe rebuild what has been so damaged. I hope so, but I don't know." She also tells Popsugar that she wants all the characters to be alive at the end.
• GoComics has a "Biographic" of Bryan Cranston that highlights his life and career in comic-strip form.
• Breaking Bad won three Gold Derby TV awards: best drama series, best drama actor (for Bryan Cranston), and best drama supporting actor (for Giancarlo Esposito).
• Rian Johnson says in a Reddit "Ask Me Anything" Q. & A. that Vince Gilligan recruited him to direct two Breaking Bad episodes because he was a fan of Johnson's film, Brick. Johnson shares with Television Without Pity that he came up with the image of Skyler's dress billowing around her in the pool in Season 5, Episode 4, "Fifty-One." Also New York speaks with Johnson, who's glad he's not directing any more episodes "since I get to just watch it as a fan."
• The National of the Middle East deems Bryan Cranston's portrayal of Walt's Mr. Chips-to-Scarface transformation "nothing short of extraordinary."
• According to Entertainment Weekly, Dean Norris will guest star on the upcoming season of NBC's Whitney, playing the dad of Whitney's boyfriend.
• The Beverly Hills Courier speaks with Anna Gunn about her interest in opera, including her two favorites, Mozart's Magic Flute and Don Giovanni.
• The New York Times reports that a reunion of the cast and producers of Fox's Ben Stiller Show at next month's New York Comedy Festival will include Bob Odenkirk.
• According to TVLine, Giancarlo Esposito will reprise his role as Pierce's brother in a Season 4 episode of NBC's Community.
Read More