Press
Bryan Cranston on Men's Journal Cover; Is Aaron Paul People's Sexiest TV Actor?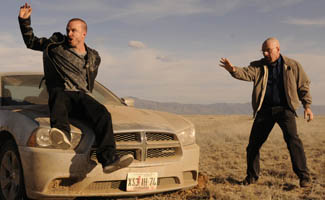 This week, Bryan Cranston is in Men's Journal, while Aaron Paul is one of People's nominees for TV's sexiest star. Plus Vince Gilligan chats with The Telegraph and The Daily Beast. Read on for more.
• Check out Bryan Cranston on the cover of next month's Men's Journal, which explores the actor's "turbulent — and often dark — history."
• You have until Sunday to make Aaron Paul People's sexiest male TV star.
• Vince Gilligan describes Walt's deceptions to The Telegraph: "The scriptwriters and I have a joke that if Walter had a superpower it would be to lie effortlessly, and the person he lies to the most is himself."
• The Daily Beast examines several scenes from the Season 4 finale, "Face Off," with Vince Gilligan, Bryan Cranston, Giancarlo Esposito, and Mark Margolis.
• Jimmy Kimmel Tweeted a photo with Bryan Cranston and Aaron Paul, calling it a "foreshadowing" of the Emmy Awards ceremony this weekend. Parker Posey helps promote the Emmys with an Emmy-Speech Master Class video featuring a Cranston shout-out.
• Anna Gunn chats with The Daily Beast about Skyler staying with Walt: "There's a myriad of reasons for that that are fascinating. There's layer upon layer, which makes the material beautiful to play as an actor."
• Giancarlo Esposito talks to Esquire — which thinks the "smart man won't be betting against him" at this weekend's Emmy Awards — about Gus and his new show, NBC's Revolution. Esposito will present an award at the ceremony, Entertainment Weekly reports.
• The New York Observer interviews Mark Margolis, who describes Breaking Bad as a "show about a guy with lung cancer. It's a comedy."
• Variety profiles RJ Mitte, an "outspoken advocate for equality and anti-bullying."
• The Associated Press asks Bryan Cranston about his favorite TV show when growing up, The Andy Griffith Show.
• Aaron Paul tells Digital Spy that Season 2, Episode 6, "Peekaboo," was an episode that "really showed me, and our audience, what Jesse was all about, and how he did care." ComingSoon.net also sits down with Paul, who talks about his film projects and says of Breaking Bad, "We all know that we're a part of something superspecial."
• In an interview with Complex, Jesse Plemons says, "Breaking Bad is great at blurring the line between good and evil."
• CNN cites AMC's Story Sync — available for Breaking Bad and The Walking Dead this year — when discussing TV viewing with a second screen. And a Los Angeles Times article on second screens that complement the TV-viewing experience mentions AMC's mobile app, which "delivers behind the scenes features, interviews and updates" for shows.
• See Walt and Skyler on Salon as the Heisenbergs, a Breaking Bad version of Grant Wood's American Gothic.
• Australia's Age says Season 5's episodes "give rise to some of the most memorable scenarios, twists and turns in recent TV history."
• /Film compliments composer Dave Porter and Breaking Bad's music.
• Metro suggests watching Breaking Bad for lessons on risk management: "Just because your brother-in-law works for the DEA doesn't mean you can't deal drugs."
• Unreality recaps Season 5 with Dr. Seuss-like rhymes.
• tooFab has photos of Bryan Cranston at a Malcolm in the Middle reunion earlier this week.
• TVLine reports that Jonathan Banks has landed a multi-episode arc on Vegas, a new CBS drama.
• Giancarlo Esposito will receive a career-achievement award at next month's FLIFF On-Location: Grand Bahama Island, according to The Bahamas Weekly.
• If you're in the market for some DVDs, The Guardian suggests buying the Mr. Show With Bob and David box set — which was co-created by Bob Odenkirk.
• Catch a glimpse of Mark Margolis in the trailer, courtesy of Reelz, for Stand Up Guys, a film starring Al Pacino and Christopher Walken that opens January 2013.
Read More