Press
Vince Gilligan Chats With Slate; Bryan Cranston Onstage in American Beauty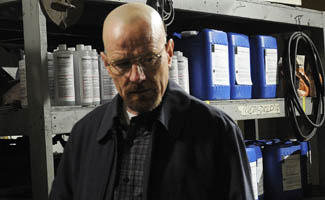 This week, Vince Gilligan talks to Slate and Rolling Stone, while Bryan Cranston appears onstage for a reading of American Beauty, playing Kevin Spacey's character. Plus TV Guide considers Hank's discovery of Heisenberg's identity one of the week's top TV moments. Read on for more.
• Vince Gilligan describes his main characters to Slate, calling Walt "untrue to himself," saying Jesse "wants better," and noting Hank believes in "truth at all costs." Gilligan also tells Rolling Stone that the writers are still figuring out the show's final episodes, observing, "We are in a decidedly undecided state."
• Vanity Fair was there for the Toronto International Film Festival's live reading of American Beauty that featured Bryan Cranston (who played his role "as more acerbic" than Kevin Spacey did in the film) and Mad Men's Christina Hendricks. Variety heard that the audience reactions were "enthusiastic." Canada's Chronicle Herald says Cranston received a "thunderous round of applause" for his performance, while Metro Times thinks the "cast was uniformly excellent, but special praise has to go to Cranston."
• Hank's discovery, in the last episode of 2012, that Walt is Heisenberg was one of TV Guide's top moments of the week.
• USA Today puts Breaking Bad at the top of its weekly pop-culture favorites, saying, "Vince Gilligan gave us something to chew on until the show returns with its final eight episodes."
• TV Guide says Bryan Cranston — who is "back with a vengeance" — is most likely to win the Emmy for lead actor in a drama. (No link.)
• Rian Johnson talks to The Huffington Post about directing Season 3 Episode 10, "Fly": "The more I dug into it, the more I really appreciated what they were going for with it, and obviously we had a lot of fun with it."
• Darryl L. Frank, nominated for a sound-mixing Emmy for the Season 4 finale, "Face Off," is interviewed by his hometown paper, the Dunkirk Observer.
• New York cites Breaking Bad as an example of why TV — with its "terrific writing, acting, and originality" — is now better than the movies.
• Breaking Bad is No. 9 on the Sydney Morning Herald's list of the top 25 shows of the past quarter century.
• WhatCulture.com proclaims that Breaking Bad is "probably the best show not just on T.V., but in the history of T.V."
• Adweek examines how social media is changing TV and cites AMC's Story Sync app, which was available to viewers during the Breaking Bad season.
• The Huffington Post spotlights an "impressively-edited" fan video that depicts Walt's journey from Mr. Chips to Scarface.
• Entertainment Weekly and Deadline think Bryan Cranston could get a Best Supporting Actor Oscar nod for his role in Ben Affleck's Argo.
• Check out Aaron Paul in the trailer for Smashed, a film that's "already getting rave reviews," according to ScreenCrush. Just Jared has photos of Paul on the London set of A Long Way Down, a film adapted from Nick Hornby's book of the same name.
• Hollywood Today interviews RJ Mitte at the Burbank International Film Festival about CinemAbility, a documentary about the changing portrayals of disability in film and on TV.
• If you miss Jonathan Banks, you can see him in a Season 5 episode of NBC's Parks and Recreation, playing the father of Adam Scott's character, according to HitFix.
• The Guardian says Breaking Bad has transformed Bob Odenkirk "from comedian to serious actor." Meanwhile, you can catch Odenkirk guest starring in the second episode of the new season of CBS's How I Met Your Mother, according to Gather.
• The Huffington Post highlights Vince Gilligan's Q. & A. with the fans at AMCtv.com.
• The New Mexico Business Weekly reports that a screenplay called Duke City, attached to Steven Michael Quezada (who will play the lead role), has just been optioned.
Read More