Press
Vince Gilligan Talks Last Episode of 2012; Jimmy Kimmel As Walt on TV Guide Cover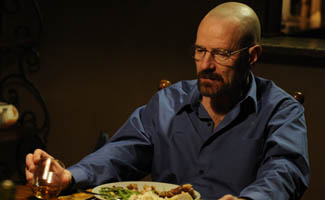 This week, Vince Gilligan discusses the last episode of 2012 with various publications, including the Los Angeles Times and the New York Times, while Jimmy Kimmel dresses as Walt on the cover of TV Guide. Plus Rolling Stone goes inside Breaking Bad. Read on for more.
• Vince Gilligan speaks with the Los Angeles Times, which observes Breaking Bad's "much lauded ability to weave weighty philosophical issues with riveting narratives, often with a winking absurdity." Gilligan discusses the last episode of 2012 too, calling it a "very different ending for a season."
• According to the New York Times, Vince Gilligan has this to say about the last half of Season 5: "There will be resolution in these final eight. We will know where everybody stands." Entertainment Weekly and Zap2it also report on Gilligan's comments. Meanwhile, The Onion presents its own version of Gilligan's ruminations.
• Jimmy Kimmel dons a hazmat suit, a "little glue and hair from some unidentified animal" to dress up as Walt for the cover of TV Guide's Emmy-preview issue.
• Rolling Stone takes an inside look at Breaking Bad, which it compares to the "frantic final minutes of Goodfellas stretched over six seasons of television."
• The New Jersey Star-Ledger thinks the first half of Season 5 represents the "best the show has ever been at manufacturing a highly compelling tale of a monomaniacal meth manufacturer."
• New York offers a soundless homage to the first half of Season 5, a "video recap, sans words."
• TV Guide labels Mike's demise the week's "most peaceful death," as Mike and Walt "stare in silence at the trickling water."
• Hollywood.com speaks with Dean Norris, who describes the last of 2012 as a "devastating episode. It's a brutal episode."
• Betsy Brandt tells Zap2it that she and Anna Gunn speculate that Marie and Skyler's parents were "just kind of crazy, nutso people, which is part of the reason why Marie and Skyler are always there for each other." The Detroit Free Press analyzes the last episode of 2012 with Brandt. Also Breaking Bad's costume designer explains to New York why Marie took the unusual step of wearing a yellow shirt in the midseason finale.
• MTV highlights its five favorite musical moments from the show's "five stellar seasons." The Pittsburgh Post-Gazette discusses the musical choices in the last episode of 2012.
• Wired interviews the show's composer, Dave Porter, who says his favorite scene to score was the cold open of Season 5's "Buyout": "In addition to being a very moving and intense scene, I was afforded the luxury of having the music be the only sound in that scene." Porter also speaks with Hollywood.com.
• Indiewire interviews Breaking Bad's director of photography, Michael Slovis, calling him the "second creative force shaping what's on screen in just as influential a way as showrunner Vince Gilligan."
• Fast Company's Co.Create interviews Nick Forshager, Breaking Bad's supervising sound editor, about the show's "signature sounds."
• The AMC blog features the five best movies of Giancarlo Esposito, the "man behind Gus."
• Nerd Approved uses an info graphic to show every single death on Breaking Bad. For the record, it says there are 247 of them.
• What's New York's favorite Breaking Bad image? Jesse trying heroin for the first time.
• After watching the last episode of 2012, Cinema Blend takes a look at some loose ends that may get tied up during the back half of Season 5.
• The Huffington Post says Walt is one of TV's hardest workers: "He's now considered the drug king of New Mexico. It's kind of a tough job."
• Entertainment Weekly ponders the meaning of baldness on Breaking Bad — and the seeming replacement of Mike and Jesse with "blond upstart" Todd.
• MTV makes five wishes "for the long overdue demise of Walter White": e.g., "For Mike's Liquidated Body and Gus' Charred Corpse to Combine Into a Voltron-Like, Walter-White-Killing Machine."
• Houston Press has some suggestions as to how the "other half of the season should go."
• The Austin Chronicle writes about becoming a Breaking Bad fan — and wonders what's going to fill the Sunday-night void until the show returns next year.
• Pacific Standard interviews Breaking Bad's science consultant, the University of Oklahoma's Donna Nelson.
• Walt tops Columbus Alive's list of TV anti-heroes, observing, "He's become even more captivating" as he's turned into Heisenberg.
• Thought Catalog thinks Walt's transformation over the course of the series could possibly alter forever the "traditional model of TV storytelling."
• The Guardian explains why it's "wrong" that Seasons 3 and 4 of Breaking Bad have never been broadcast in the U.K.
• Catch Bryan Cranston guest starring on an episode of NBC's 30 Rock, TV Guide reports.
• Jason Reitman casts Bryan Cranston (and Mad Men's Christina Hendricks) in a live reading of American Beauty at the Toronto International Film Festival.
• The Independent comments on Bryan Cranston's domination of the big screen, observing he's "never more in demand, and certainly one of the hardest working men in Hollywood."
• Bryan Cranston shares his memories of the Daytona Playhouse in the mid-seventies with the Daytona Beach News-Journal.
• The Omaha World-Herald reports that Alexander Payne has cast Bob Odenkirk in his new film, Nebraska.
• For recaps and reviews of Season 5, Episode 8, "Gliding Over All," check out The Atlantic, Entertainment Weekly, E! Online, Esquire, HitFix, the Los Angeles Times, the New York Daily News, Rolling Stone, Slate, TV.com, TV Guide, TVLine, and The Wall Street Journal.
Read More