Press
Vince Gilligan on Awkward Dinner Scenes; New Yorker Calls Breaking Bad "Addictive"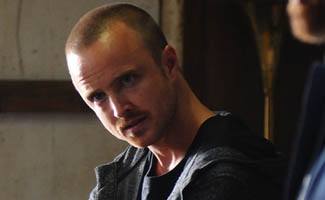 This week, Vince Gilligan talks to New York about Jesse's awkward dinner with the Whites, while The New Yorker declares Breaking Bad "explicitly addictive." Plus, TV Guide cheers Jesse Plemons, and the Emmy buzz is building. Read on for more:
• Vince Gilligan explains to New York the genesis of the awkward Walt, Jesse and Skyler dinner scene in "Buyout": "We wanted worlds to collide, characters who didn't really belong together being forced to spend time with each other by the monstrous behavior of Walter White."
• The New Yorker calls Breaking Bad "an explicitly addictive series" but also describes it as "a very strange kind of must-watch: a show that you dread and crave at the same time."
• Vince Gilligan and Breaking Bad's composer and music supervisor will speak at the Billboard Hollywood Reporter Film and TV Music Conference in October about the importance of music in the show, Billboard reports.
• TV Guide names the final scene of last week's "Dead Freight" as the week's Most Shocking Ending: "It's clear that the repercussions of this murder will define the remainder of the season."
• Breaking Bad's Sep. 2 episode is Entertainment Weekly's Must Watch of the Week: "It's gonna be one helluva Bad night." (No Link.)
• Bryan Cranston chats with Zap2it about Walt and Jesse reteaming in Season 5: "Aaron and I missed working together from an acting standpoint." Postmedia News profiles the ever-prolific Cranston.
• TV Guide cheers Jesse Plemons: "The Friday Night Lights grad is chillingly calm as a member of the meth crew who killed a child witness." (No Link.)
• New York interviews Jesse Plemons (Todd) about the dark turn his character has taken. His reaction: "I was just shocked, stunned. And then immediately following, was like, Wow, what's going on here." Referring to a murder committed by his Friday Night Lights character, Plemons tells Rolling Stone, "It's in my contract: I gotta kill at least one person." USA Today's pop culture favorites last week include Plemons, who "might be walking on thin ice after what his character did on Sunday's shocking episode of Breaking Bad." Plemons recounts to The A.V. Club how his character's name in the audition wasn't Todd.
• Variety examines each of the best drama nominees, including Breaking Bad while The Hollywood Reporter assesses each nominees chances of winning, noting Breaking Bad's Season 4 "propelled the drama to 13 total nominations." (No Link.)
• Deadline points out that an Emmy win next month by Bryan Cranston for lead actor in a drama series would be his fourth in a row, a feat that's never been achieved.
• Variety looks at major character deaths on the Emmy-nominated drama series, such as Gus Fring on Breaking Bad. Vince Gilligan explains, "At a certain point you say, 'Man I love this actor and this character,' but the town's only big enough for one of them."
• Deadline predicts a best drama actor Emmy win for Bryan Cranston this year: "It's going to take an act of God (or Gus Fring) to keep him from winning his fourth trophy in a row."
• Theme is not the driving force behind the storytelling of the Emmy-nominated dramas, reports Variety in an article that quotes Vince Gilligan.
• People spotlights Emmy contender Anna Gunn, who reveals "there's some butterflies about giving a speech." (No Link.) Gunn speaks to Variety about Skyler walking into the pool in Season 5, Episode 4, "Fifty-One."
• Variety highlights the nominees for best directing for a drama series, including Vince Gilligan for the Season 4 finale, "Face Off."
• The Hollywood Reporter spotlights guest actor Emmy nominee Mark Margolis, who calls Vince Gilligan "the Einstein monster of television writing." The publication thinks Margolis will win his category. (No Link.) Margolis visits CBS' Live From the Couch to discuss Hector.
• Sound & Picture interviews Breaking Bad's production sound mixer (and Emmy nominee) Darryl L. Frank, who says rehearsals are hilarious because Bryan Cranston is "such a comedic genius."
• Ology speaks with Betsy Brandt, who says, of Marie, "She's not a bad person, she's just a difficult person." Brandt also tells Starpulse that Season 5 means "we're starting to already enjoy the payoff of the show coming to an end." Brandt talks to Zap2it about Breaking Bad and her background. Also, Brandt analyzes "Buyout" with the Detroit Free Press.
• TV Guide says, it's unclear if Walt and Jesse will be punished for the boy's death at the end of "Dead Freight," but "we're getting closer and closer to the endgame."
• The New York Post applauds Breaking Bad for converting supporting players like Mike and Gus into "riveting, essential" central figures. (No Link.)
• MediaPost's summer TV assessment calls Breaking Bad "without question a singularly outstanding series and a frequently breathtaking one at that."
• Canada's Postmedia News raves, "Almost everything about Breaking Bad is inspired, from its performances to its tart, snappy dialogue."
• The Huffington Post discusses the drama and comedy of the secret life, as embodied by characters like Breaking Bad's Walt.
• New York highlights a Seinfeld-esque Breaking Bad spin-off called Pinkman.
• The Plain Dealer traces the evolution of teachers on TV from Mr. Peepers to Walt.
• STACK lists five reasons why you should catch up on Breaking Bad, which is "poised to cement its legacy as one of the decade's best dramas."
• Entertainment Weekly says a second album of music from Breaking Bad will be released on Tue., Aug. 28.
• According to Wired and LAist, Los Angeles' Gallery 88 has an exhibition called The Breaking Bad Art Project, which showcases artists' interpretations of Breaking Bad. New York solicits comments from Bryan Cranston, Betsy Brandt, RJ Mitte, Bob Odenkirk and Vince Gilligan about the exhibit's various pieces, while The Wall Street Journal interviews Gilligan and the cast at a preview showing.
• New Mexico's KRQE, the Associated Press and The Huffington Post report on an Albuquerque candy store owner who's selling Breaking Bad-inspired blue meth candy.
• The episode of NBC's The Office directed by Bryan Cranston, titled "Work Bus," will air on Thu., Oct. 18, according to Entertainment Weekly.
• Bryan Cranston is on Examiner.com's short list for a best supporting actor Oscar nod for his role in the upcoming Argo: "With his Emmy dominance with Breaking Bad, he has become a household name."
• Entertainment Weekly reveals that Bob Odenkirk will guest-voice a "crooked insurance adjuster" in an episode of FOX's Bob's Burgers.
• For recaps and reviews of Season 5, Episode 6, "Buyout," check out The Baltimore Sun, Entertainment Weekly, E! Online, Esquire, Forbes, Grantland, The Huffington Post, Indiewire, the Los Angeles Times, MTV, New York, Salon, Slate, Television Without Pity and TVLine.
Read More