Press
Dean Norris Goes Gangster on Conan; Breaking Bad Perfects Awkward Dinners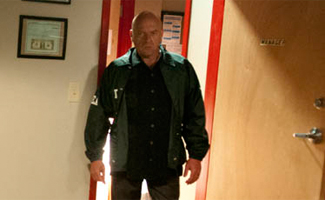 This week, Dean Norris goes gangster while visiting Conan O'Brien's talk show, and TV Guide applauds Breaking Bad for its awkward dinner scenes. Plus Jonathan Banks does several interviews about Mike's demise. Read on for more.
• Dean Norris visits fellow Harvard grad Conan O'Brien and shares his hope that "Hank goes a little gangster himself" in the second half of Season 5.
• TV Guide says Breaking Bad "perfects the awkward dinner scene," in its list of TV's top moments.
• Jonathan Banks talks to TheWrap about finding out about Mike's death at Aaron Paul's engagement party. Entertainment Weekly also interviews Banks, who says, Mike would've fled to Spain if Walt hadn't killed him. Banks also describes Mike to HitFix and marvels to the New York Times about his final scene. Banks tells New York why he thinks Mike let his guard down at the end.
• After watching last week's episode, "Say My Name," TV Guide sees the final scene as "a haunting image that does honor to a great character and wonderful actor."
• The Monkees' Micky Dolenz talks with The Hollywood Reporter about Breaking Bad's use of one of the band's songs, "Goin' Down," in last week's episode.
• The New York Post recommends watching the Breaking Bad last episode of 2012 on Sunday: "If you want just one show this weekend, make it this one."
• The Atlantic observes that no conversation about TV's best "would be complete without mention of Breaking Bad." The Guardian Express raves that "all of season five has been excellent."
• TheWrap, calling the final season "painful in its intensity and terrifying in its darkness," thinks Breaking Bad was "never more right than when it went very wrong."
• According to New York, last week's episode, "Say My Name," was Breaking Bad's highest-rated episode ever: 3 million viewers.
• New York also provides a guide to every death on Breaking Bad and rates how heartbreaking each one is.
• The St. Louis Post-Dispatch expects Breaking Bad and Bryan Cranston to win Emmys this year for best drama and best lead actor. (No link.) The Star Tribune makes the same predictions.
• Deadline thinks the Season 4 finale, "Face Off," was "one of the most shocking in series history."
• Variety spotlights best supporting actor Emmy nominees, including Giancarlo Esposito (the "most mesmerizing villain in recent memory") and Aaron Paul (the "emotional bellwether for the consequences of Walter's actions").
• The Huffington Post interviews Giancarlo Esposito, who reflects on playing Gus.
• Variety says Anna Gunn "proved especially adept at revealing the inner strength in Skyler," in its roundup of best supporting actress Emmy nominees.
• TV Guide speaks with Anna Gunn, who talks about Skyler's trajectory: "There's a really similar quality to his transformation into the Heisenberg and her transformation into what she's becoming." Gunn also tells Salon why Skyler doesn't share everything with Marie and Hank: "It could result in Walt and Skyler going to jail, and then what happens to the kids?"
• Adweek learns about Dean Norris's media-consumption habits — and he shares that his favorite sports teams are the Los Angeles Dodgers and the Notre Dame Fighting Irish.
• Bob Odenkirk tells Rolling Stone that Vince Gilligan and the writers believe that "Saul brings some lightness to such a heavy show" The Associated Press, which also interviews Odenkirk, describes Saul's appeal: "He was freewheeling and self-possessed (and funny!)."
• Comic Book Resources speaks with Betsy Brandt, who wishes she could be in some of Breaking Bad's action sequences. "I ask Vince for Marie to have a gun every year," she says. Brandt shares with The A.V. Club that she thinks this season is "actually one of our funniest." Also Brandt discusses, with the Detroit Free Press, last week's episode, "Say My Name."
• RJ Mitte tells The Daily Blam! that he thinks of Breaking Bad as "one big movie." TV Fanatic also speaks with Mitte, who says, "I'm honestly excited for what's going to happen with Jr. and Jesse."
• Newsday calls Walt and Jesse one of TV's dynamic duos: "These Emmy winners define 'dynamic.'"
• Breaking Bad scored two CableFAX Program Award nominations: Best Showrunner for Vince Gilligan and Best Cable Program. (No link.)
• Canada's QMI Agency compares Walt and the Grinch (who stole Christmas).
• A Breaking Bad fan compiles a video of the drama's various Albuquerque filming locations. Watch it at The A.V. Club.
• Film School Rejects checks out the new Breaking Bad soundtrack and advises, "Grab a bucket of Los Pollos Hermanos and give it a listen!"
• Prefix reports that RJ Mitte has been cast in a film called The Devil's Ink.
• According to Deadline, David Costabile will join Lennie James (of The Walking Dead) in AMC's Low Winter Sun.
• Matt Jones, a.k.a. Badger, has been cast in The Office spin-off as Dwight Schrute's cousin, Zeke.
• For recaps and reviews of Season 5, Episode 7, "Say My Name," check out The A.V. Club, Collider.com, Entertainment Weekly, E! Online, Forbes, The Huffington Post, Indiewire, MassLive.com, New York, Salon, Slate, TV Fanatic, TVLine, The Wall Street Journal, and Zap2it.
Read More