Press
Bryan Cranston and Aaron Paul on Rolling Stone Cover; Vince Gilligan Chats With Variety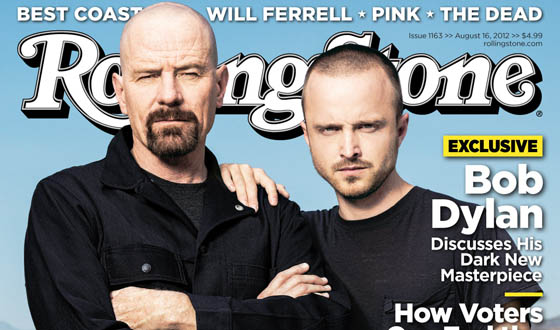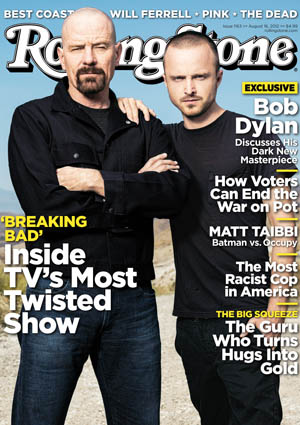 This week, Bryan Cranston and Aaron Paul grace the cover of Rolling Stone magazine while Vince Gilligan discusses Cranston in Variety. Plus, TV Guide approves of Mike using a stuffed pig toy as a decoy and Betsy Brandt chats with New York. Read on for more:
• Bryan Cranston and Aaron Paul appear on the cover of Rolling Stone, which "goes behind the scenes of one of TV's all-time great shows." Rolling Stone has a video from the actors' cover photo shoot.
• Variety includes Vince Gilligan in a showrunner round-up. He calls Bryan Cranston his partner in crime: "As Walter White, he's captured lightning in a bottle. He's absolutely fearless." (No Link.)
• TV Guide rates Mike's deployment of a mechanical stuffed pig in Season 5 Episode 2, "Madrigal" as the "Best Use of a Children's Toy."
• New York conducts an extensive Q&A with Betsy Brandt, who discusses Marie and echoes the sentiment of many viewers watching last week's episode: "Oh God, how disturbing was it when you saw Walt with Brock?"
• Rolling Stone interviews Anna Gunn, describing her as "the finest female foil for a male antihero on television right now."
• Collider.com speaks with Vince Gilligan, who teases, "We have one hell of a great caper episode coming up in episode five… Maybe our best yet." Gilligan also tells Collider a little more about Season 5's opening scene, and he tells TV Guide, "All the questions that arise from that initial tease will be answered. Just try not to have too many expectations about when." The Huffington Post interviews Gilligan about Season 5 Episode 3, "Hazard Pay," including the appearance of Scarface.
• Celebuzz catches up with Bryan Cranston, who says, "By the end of next season, 62 episodes will be complete and we'll have told our story… I would always rather leave a year too early than a year too late." Cranston tells Parade that Walt has been "the role of my life. I doubt that I will tackle a character this complex and profound ever again."
• Aaron Paul, Bob Odenkirk and Jonathan Banks chat with Collider.com. Paul says of Season 5, "The entire tone of this season is just so unsettling and creepy and eerie."
• Mark Margolis talks to Hollywood.com about his Emmy nomination for playing Hector "Tio" Salamanca and calls Vince Gilligan the "Einstein of television writing." Margolis also speaks with BuzzFocus.com about Season 4 Episode 8, "Hermanos."
• RJ Mitte speaks with ComingSoon.net and marvels at Vince Gilligan's imagination: "He's such a sweet guy and you wouldn't believe how dark his mind goes!"
• The Atlantic extols Breaking Bad as "the most visually sumptuous show in America."
• New York points out that Breaking Bad Season 5 Episode 3, "Hazard Pay" featured the most obvious allusion yet to The X-Files, for which Vince Gilligan served as writer.
• Greg Nicotero, The Walking Dead's special effects makeup guru (and co-executive producer) speaks with Variety about working on Gus' death scene: "Vince Gilligan is great to collaborate with; he has a child-like glee for this kind of stuff." (No Link.)
• Breaking Bad was named best drama series at the Television Critics Association Awards — and HitFix offers some highlights from the ceremony, including the performance of Bryan Cranston, the emcee.
• Entertainment Weekly highlights Breaking Bad's three Saturn Awards wins and quotes Vince Gilligan: "We have such a good time coming up here. Everyone says the Golden Globes is the best awards show/party out there. I think the Saturn Awards is it." The Hollywood Reporter says Breaking Bad was the "dominant force" at the awards.
• Australia's The Daily Telegraph concludes that Breaking Bad is the best TV show ever, asserting, "I cannot recall a show that surpasses Breaking Bad."
• The Fort Worth (Tex.) Star-Telegram compares Breaking Bad and The Wire, noting the latter "did not feature a single performance that covered as many emotions and colors as Walter White."
• The A.V. Club features Skyler's "mini-meltdown" in a video mash-up of Season 5 Episode 3, "Hazard Pay" and Paul Thomas Anderson's Punch-Drunk Love.
• Hollywood.com compiles a supercut of all of the White family's breakfast scenes because "you need your fix of Walt Jr.'s breakfast fix."
• WhatCulture lists 10 things that "must" happen before Breaking Bad ends for good.
• The Guardian laments that Breaking Bad "currently has no presence on British screen."
• The Oklahoma Daily interviews Breaking Bad scientific consultant Donna Nelson.
• The Huffington Post spotlights AMC's making-of video for Breaking Bad Season 5 Episode 2, "Madrigal," observing how an Albuquerque high school was transformed into a German office building.
• Thought Catalog tells you what your favorite Breaking Bad character says about you.
• Shockya reviews Breaking Bad's Season 4 DVD, calling the show "the dramatic equivalent of a dialed-in baseball slugger — tightly focused on every pitch and unwilling to give away a single at-bat."
• The Globe and Mail offers a video of Bryan Cranston discussing his role in the Total Recall remake.
• Variety reports that Steven Michael Quezada (Gomez) is developing a New Mexico-based series called Duke City and Dean Norris is attached to the project.
• For recaps and reviews of Season 5, Episode 3, "Hazard Pay," check out The A.V. Club, Entertainment Weekly (recap and review), E! Online, HitFix, The Hollywood Reporter, The Huffington Post, the Los Angeles Times, New York, Rolling Stone, Salon, Slate, Television Without Pity, Time, TV.com, TVLine, The Wall Street Journal and Zap2it.
Read More