Interviews
Q&A – Dean Norris (Hank Schrader)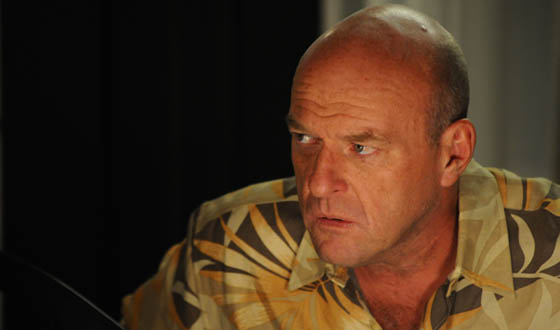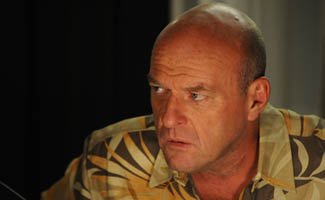 Actor Dean Norris, who plays Hank Schrader on Breaking Bad, describes learning about the real DEA for a drug documentary and shares the one thing that continues to surprise him about Hank.
Q: You just returned from Europe. Did you find that locals are tuning in to the show?
A: A little bit! It kind of felt like the first or second season was here for Europeans now. But it was Americans abroad who would stop me non-stop. It seems like a huge number of people have now become fans of the show. You really get the sense that it has permeated the culture in a much larger way here.
Q: Hank is back on his feet more this season. Is that a shift you've welcomed?
A: Yeah it is. The next thing for Hank to do is find out about Walt — so they've had to find ways to keep him out of the action — but now with Hank back on his feet a bit we're seeing the endgame coming around the corner.
Q: How did you craft Hank's limp? Did you watch a lot of House?
A: It was always kind of told to me vis-a-vis the directors and the producers where we're at and how much limping Hank would do. They just defined that for me.
Q: Episode 4 had yet another tense family dinner. Do they feel as awkward as they look?
A: Those are some of my favorites because we all get together, and they've kind of become a signature thing on the show. I work with the DEA guys all the time, who I love, but from a personal side it's nice to hang out with the rest of the gang. Those scenes are going to be even more interesting if Hank ever knows something about Walt that Walt doesn't know he knows, because for the entire series Walt's had this secret that everybody in the audience knows and Hank is the one guy that doesn't know it.
Q: Do you and Bryan joke about this looming showdown?
A: We haven't talked about it at all. I think we're waiting to see how it plays out, because neither one of us knows what that's going to look like or feel like in the script.
VIDEO: Clip from Episode 502, "Madrigal"
Q: You recently hosted a show about the history of drugs called the The Stoned Ages. What did that teach you about real-life Hank Schraders?
A: I interviewed several DEA guys — who were big fans of Breaking Bad, by the way — and we went into a DEA warehouse in an undisclosed location in Arizona. It was pretty phenomenal, looking at literally hundreds of thousands of pounds of marijuana. These guys who work in this are used to the evolution of drugs. It used to be LSD, then it was cocaine, then crack, and now it's these designer drugs. As soon as you try to put a dent in a certain type of drug, then another one comes up. These guys know the limitations of what they can do but they also know it's something they have to keep fighting. They're not hardcore in the way you would think.
Q: Is there anything about Hank that continues to surprise you after five seasons?
A: I've never quite figured out why he and Marie don't have kids.
Q: Do you ever take Hank Schrader anywhere off-set?
A: It'd be fun. I often think about going into a bar and just Hankin' it up. But I figure I better not do that.
Click here to read an interview with Anna Gunn, who plays Hank's sister-in-law Skyler White.
Read More