Press
Madison Gate Records to Release Breaking Bad: Original Score From the Television Series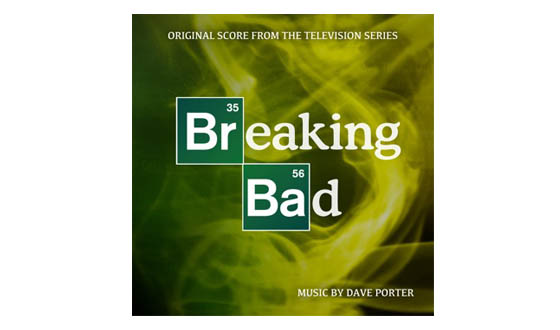 Madison Gate Records will release the soundtrack album entitled Breaking Bad: Original Score From The Television Series on Tue. Aug. 28, 2012. The recording features original music by Dave Porter from all five seasons of the Emmy Award-winning and critically-acclaimed television series. The album will also debut never-before-heard music and extended versions of fan-favorite cues.
Porter comments, "Composing the original music for Vince Gilligan's Breaking Bad has been an incredible experience, and I've had the pleasure of reliving it while creating this compilation. I've selected a few pieces of music I wrote for each season that seemed to resonate the strongest. Some are personal favorites, others are cues I'm often asked about, and most correspond to pivotal moments in the show."
"Dave is a very gifted composer and his unique approach to scoring — utilizing the dobro, the Japanese koto and other non-traditional instruments — creates a perfect backdrop for the Breaking Bad series. We're thrilled to be able to finally offer fans of the show a collection of hand-picked, score tracks from all five seasons," says Madison Gate Records executive Shelly Bunge.
Click here to pre-order Breaking Bad: Original Score From The Television Series from the iTunes Store.
Click here to listen to a preview of the album courtesy of Entertainment Weekly.
Dave Porter began his musical training at the piano at age five, and began composing as a teen. He studied classical and electronic music composition at Sarah Lawrence College, and started his professional career at Philip Glass' studio in New York City. Dave has been awarded ASCAP Film and TV Awards for Breaking Bad and the Fox Studios paramedic drama Saved. His other credits include Bigger, Stronger, Faster, The Oh in Ohio, Ultraviolet, and Smiley. Dave was hired during the pilot episode of Breaking Bad in 2006 and has scored every episode of the critically-acclaimed series.
This is the second Breaking Bad release from Madison Gate Records. The first release, entitled Breaking Bad: Music From The Original Television Series, featured a collection of songs from Seasons 1 and 2 of the series.
Click here to pre-order Breaking Bad: Original Score From The Television Series from the iTunes Store.
Click here to visit the Breaking Bad shop, where you can find Seasons 1-4 of Breaking Bad on Blu-Ray and DVD.
Track List:
1. Breaking Bad Main Title Theme (Extended)
2. Matches In The Pool
3. Smoking Jesse's Pot
4. Gray Matter
5. The Morning After
6. Three Days Out
7. Vent
8. Baby's Coming
9. Jane's Demise
10. The Cousins
11. Hank In Pursuit
12. The Long Walk Alone (Heisenberg's Theme)
13. Searching For Jesse
14. Aztek
15. Four Corners / Waiting For The End
16. Jesse In Mexico
17. Crawl Space
18. Parking Garage Standoff
19. Cleaning House
20. Disassemble
Running Time: 58 minutes
About Breaking Bad
Created by acclaimed writer, producer and director, Vince Gilligan, and produced by Sony Pictures Television, Breaking Bad follows the story of a desperate man who turns to a life of crime to secure his family's financial future. The critically-acclaimed series that The Hollywood Reporter called "one of the greatest dramas in TV history," has garnered six Primetime Emmy Award wins and a Peabody, and been named to the American Film Institute's (AFI) list of the "Top 10 Programs of the Year" (2008, 2010, 2011). Breaking Bad stars three-time Emmy Award-winner Bryan Cranston, Emmy-winner Aaron Paul, Anna Gunn, Dean Norris, Betsy Brandt, RJ Mitte, Bob Odenkirk and Jonathan Banks.
About Madison Gate Records
Madison Gate Records is the in-house, independent record label of Sony Pictures Entertainment. The label was founded in 2010 to create, distribute and market music and related products from today's top films and television programs. For more information go to Facebook.com/MadisonGateRecords.
Read More