Press
TV Guide Cheers Jonathan Banks; Vince Gilligan Chats With Entertainment Weekly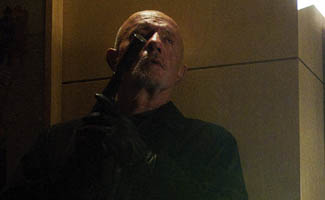 This week, TV Guide cheers Jonathan Banks while Vince Gilligan discusses Season 5, Episode 2, "Madrigal" with Entertainment Weekly. Plus, Michael Phelps is watching Breaking Bad at the Olympics. Read on for more:
• TV Guide cheers Jonathan Banks for "his breakout work" on Breaking Bad, applauding his ability to bring "new shades of gray to AMC's morally colorful drama." (No Link.)
• Vince Gilligan dissects Season 5 Episode 2, "Madrigal" with Entertainment Weekly and names his favorite Humphrey Bogart movies. Gilligan also chats with Salon and proves himself to be as self-effacing as ever. To BuzzFocus.com, Gilligan describes trying to "come up with someone who's badder, meaner, scarier, and more formidable than Gus Fring" in Season 5 and then realizing "we already have someone worse than Gus Fring — he's our star."
• Michael Phelps tells the Today Show he's catching up on Breaking Bad during his downtime in the Olympic Village. USA Today covers Phelps's viewing habits as well.
• Anna Gunn shares with Entertainment Weekly that Skyler is "living with somebody now who terrifies her, and she can not predict what he's going to do. And she's truly so in terror for her children."
• Salon asks Dean Norris how he thinks Hank will respond when he discovers that Walt is Heisenberg. His response: "I think it's going to knock him over with a sledgehammer."
• Jonathan Banks characterizes Mike to Rolling Stone: "Mike lost his soul a long time ago. He's tired. He knows it. But he still sees himself as the protector and he wants to protect Jesse." Banks also speaks with MTV about the personal touches in Mike's on-screen home. Crushable nominates Mike as Breaking Bad's best character.
• Laura Fraser, (Lydia) tells The Hollywood Reporter she has yet to meet Vince Gilligan: "He's kind of like my Heisenberg, this phantom that everyone speaks about and has invented this whole world but I haven't met him yet."
• NPR's "Pop Culture Happy Hour" discusses Breaking Bad in depth and concludes that the show is "awesome."
• Slate consults the experts after watching Breaking Bad and concludes that flushing ricin down the toilet is not the best way to dispose of the poison.
• Franch dressing? Vince Gilligan explains the half-French/half-ranch dressing's origins to The Huffington Post.
• Salon examines what it means to be bald on Breaking Bad.
• Bob Odenkirk appears on Late Night With Jimmy Fallon debuting his "Sizzle Reel" and talking about Breaking Bad and Saturday Night Live. Odenkirk also shows up on a Comedy Bang Bang podcast.
• Entertainment Weekly, covering the Emmys, says "Breaking Bad was rightfully nominated all over the place, including a supporting actor nod for Giancarlo Esposito."
• TV.com predicts that Bryan Cranston will win the Emmy for lead drama actor. It also comments that "the academy loves giving Breaking Bad actors awards, so it makes sense that now that Anna Gunn finally got nominated, she could win."
• Gold Derby exults in Breaking Bad's Emmy nods: "Three words can describe my feelings on this year's Emmy nominations: Go Breaking Bad!"
• Bryan Cranston shares his reaction to the Emmy nods with Entertainment Weekly: "Once I found out that we had 13 nominations for our little show, it's like, 'Wow, that's fantastic.'" The Hollywood Reporter profiles Cranston, who says he was so impressed with Breaking Bad's pilot script that "I was dreaming about it. That's good writing, when it gets inside you."
The Wall Street Journal speaks with Cranston about nudity: "I'm most surprised by the amount of times that I can be naked on screen and not repulsing myself." Cranston also tells the Los Angeles Times that he'll direct upcoming episodes of NBC's The Office and ABC's Modern Family. In addition, Cranston talks to Collider.com about Total Recall, Argo and, of course, Breaking Bad.
• Anna Gunn shares with Entertainment Weekly the advice Aaron Paul gave her after receiving her Emmy nomination: "He said I should get a bottle of vodka and run naked through the street." Gunn also speaks with Zap2it about her reaction to her Emmy nod. The Hollywood Reporter notes that Gunn is the first female from her show to be nominated for an Emmy.
• Aaron Paul tells the Los Angeles Times that he celebrated his Emmy nomination by dancing with his fiancée and drinking champagne. Check out a couple clips from Paul's appearance on The Tonight Show, featuring video of his appearance on The Price Is Right 14 years ago.
• Talking Emmys and Breaking Bad Season 5 with Entertainment Weekly, Giancarlo Esposito reveals, "I'd love to come back and haunt Walt in his dreams." Even so, Giancarlo tells New York "That run had such depth and such grace and charisma that I would be challenged to fit into his skin again." Esposito talks to The New York Times about playing Gus: "It was an intentional choice I made, to really play Gus close to the vest, allow him to speak more with his actions and his eyes than his words." Esposito tells Zap2it that he chose Season 4, Episode 8, "Hermanos," as his Emmy submission episode. "I'm over the moon and definitely honored," says Esposito to the Los Angeles Times about his reaction to his Emmy nod.
• Discussing the Emmy drama supporting actor category, Entertainment Weekly observes that "pitting Breaking Bad's Aaron Paul against Giancarlo Esposito against Mad Men's Jared Harris seems almost cruel."
• The Daily Beast celebrates Mark Margolis's (Hector "Tio" Salamanca) guest actor Emmy nomination, noting it proves "the Academy can sometime shine a light on a deserving journeyman actor." According to The Huffington Post, Margolis is "totally surprised and flattered" by his nomination, commenting that the last award he won was a Boy Scout badge in 1952.
• Variety notes that Greg Nicotero is nominated for Emmys for both The Walking Dead and Breaking Bad.
• BuzzFocus.com talks to Bryan Cranston, Anna Gunn and RJ Mitte about the effect of Walt's actions on his family — especially on Walter, Jr.
• Dean Norris and Betsy Brandt speak with BuzzFocus.com about Hank's presumed eventual discovery of Walt's Heisenberg identity.
• USA Today praises AMC's videos about Breaking Bad's Season 5 episodes, calling them "the best content related to the show."
• The Baltimore Post-Examiner observes of Breaking Bad: "If the show keeps going the way it's been going, it will become possibly the only show in history that has started out good and improved with every season."
• Wired interviews Breaking Bad's fact-checkers, who "spend hours working on each script, consulting reference works and contacting scientific and law-enforcement sources" to ensure everything on the show is accurate.
• Esquire asks an Albuquerque bartender some questions about his job and Breaking Bad: "The locations they choose are very accurate for what's going on in the scene."
• USA Today reports on Breaking Bad boosting tourism in Albuquerque.
• The Huffington Post highlights Bryan Cranston's long-ago role as a bisexual seeking marriage counseling in a CHN/Lifetime drama called Crisis Counselor.
• Variety reports that Dean Norris has been cast in The Counselor, a Ridley Scott film.
• TV Overmind reports that Bryan Cranston's voice will appear in an upcoming episode of FOX's The Cleveland Show.
• Comic Book Resources reports that Aaron Paul will guest-star on the upcoming season of Adult Swim's Robot Chicken.
• Shockya.com reports that Betsy Brandt has been cast in the title role in a short film called The Professor.
• Bryan Cranston tells The Wall Street Journal about his first job delivering newspapers at the age of 12.
• For recaps and reviews of Season 5, Episode 2, "Madrigal," check out The Atlantic, Entertainment Weekly (recap and review), E! Online, HitFix, The Hollywood Reporter, The Huffington Post, the Los Angeles Times, New York, Rolling Stone, Salon, Slate, Time, TV.com, TVLine and Zap2it.
Read More