Press
EW Praises Breaking Bad; Bryan Cranston Chats With Kimmel, Conan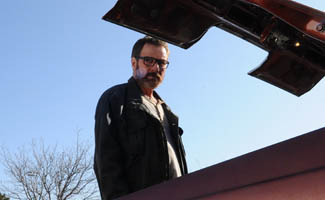 This week, Entertainment Weekly calls Breaking Bad "gripping" and "wily" in a feature article while Bryan Cranston sits down with both Jimmy Kimmel and Conan O'Brien. Plus, Breaking Bad and several actors are nominated for Emmys while positive buzz abounds for the Season 5 premiere. Read on for more:
• Entertainment Weekly features Breaking Bad in a lengthy article that calls the show a "gripping, wily drama — part quirky indie-film thriller, part pitch-black comedy, all hypnotic character study." Vince Gilligan and several cast members also chat with EW and tease some additional Season 5 details.
• Bryan Cranston sits down with Jimmy Kimmel to discuss Walt's pizza-throwing and other topics. Cranston also shows up on Conan, talking Jon Hamm and underwear.
• USA Today reports that Breaking Bad racked up 13 Emmy nominations, including best drama, lead actor for Bryan Cranston and supporting bids for Aaron Paul, Giancarlo Esposito and Anna Gunn. The Hollywood Reporter has a complete list of nominations.
• In more Emmy news, The Huffington Post was pleasantly surprised by Anna Gunn's supporting actress nomination, commenting that "it's easy to forget about how much balance and quiet strength Gunn's character brings to Breaking Bad." Time called Gunn's nod a happy surprise. TVLine is "super-ecstatic" that Anna Gunn finally "gets some love." Gunn tells TVLine, "It just feels fantastic to be recognized. I mean, to hear your name in the same breath as [Downton Abbey nominee] Maggie Smith? Just mind-blowing."
• The Atlantic makes the case that Breaking Bad is the best TV series ever.
• Rolling Stone writes that Breaking Bad is the "most agonizingly vivid drama on TV." (No Link.)
• The New York Daily News posits that Breaking Bad's final 16 episodes may be "the best upcoming hours on television." Newsday gives Breaking Bad an A+, commenting that the show "remains a marvel."
• The New York Post thanks Vince Gilligan and the show's writers "for crafting a world in which good and evil don't only exist — they joyfully embrace."
• The Paris Review compliments Breaking Bad for capturing Albuquerque and the Southwest, "however beautiful or repellent."
• TheWrap praises Bryan Cranston as "the endlessly fascinating center of the drama."
• Time wonders how Breaking Bad will finish, predicting this will be "the biggest endgame for a TV antihero/villain since The Sopranos and The Shield."
• Vince Gilligan teases to Zap2it that, at the end of Season 5's first half, "there will be a major turn, and then we'll be back for the final eight next summer. It's just going to twist harder and harder and faster, then it will spin out of control." Gilligan also shares with Zap2it that "there's a great deal of unknown" about how the series will wrap up. To Deadline, Vince Gilligan compares Breaking Bad to the French Laundry restaurant.
• Vince Gilligan tells The Daily Beast he's glad he was ignorant about Showtime's Weeds. Rolling Stone and Indiewire also interview Gilligan.
• TV Guide's visit to Breaking Bad's Albuquerque set reveals that, because of leaks, "We've had to resort to cloak-and-dagger routines to keep everything fresh and a surprise," Vince Gilligan says. TV Guide and Zap2it have more Season 5 insight from the cast and Gilligan.
• About Season 5, Bryan Cranston warns Rolling Stone that "pride goeth before the fall." Cranston discusses the Season 5 premiere cold open with MTV, calling it "the most revealing teaser we've ever had on the show."
• Aaron Paul tells the Los Angeles Times about Season 5, "Each of us is coming up with all these crazy theories about how each one of us is going to die." Paul tells Time that Season 5 is the "darkest" and "creepiest" yet. Also, Paul speaks with New York about Jesse, his Idaho upbringing and how he popped the question to his fiancée. Finally, Paul talks to The A.V. Club.
• Betsy Brandt warns TODAY.com, "If Marie ever found out Walt was involved in Hank being shot or Hank being threatened, she wouldn't be able to say, 'Oh, that's OK. We're family.'"
• HitFix live-blogs last weekend's Breaking Bad Comic-Con panel, which addressed the question of when Walt reached the point of no return. Deadline, the Los Angeles Times, New York and USA Today attended the panel too.
• According to The Hollywood Reporter, Bryan Cranston thinks Nicolas Winding Refn, his Drive director, would be "terrific" as the director of a Breaking Bad episode.
• The Los Angeles Review of Books looks at the concept of evil through the prism of Breaking Bad, noting that the show asks, "Why do bad people flourish?" Similarly, USA Today thinks Breaking Bad is a drama that examines "how crime can induce the moral disintegration of a kind, dying man."
• The Season 5 premiere was Breaking Bad's highest-rated episode yet, with 2.9 million viewers. "We are so not surprised," comments Entertainment Weekly. E! Online, The Hollywood Reporter, the Los Angeles Times and Zap2it have more on the numbers.
• The New York Times examines how Breaking Bad simulated the erasure of a laptop's hard drive in the Season 5 premiere.
• The New Yorker is impressed by Breaking Bad's "uncannily accurate" depiction of the mechanics of the meth business.
• Rolling Stone presents Walter White's 10 Lowest Lows, "the moments that make Walt bad, and make Breaking Bad great."
• CNN highlights the 10 key moments that show how Walt discovered his inner Heisenberg.
• The Denver Post attempts to compare Walter White and Tony Soprano.
• The Plain Dealer lists 10 shocking moments from Breaking Bad.
• Zap2it and Vince Gilligan suggest which 11 Breaking Bad episodes you need to watch to know what's going on in Season 5.
• Television Without Pity poses 10 questions about Season 5 of Breaking Bad, "one of the best shows on television."
• TV.com asks how much money Walt has left, considering he spent an "astounding amount of money" in Season 4.
• For recaps and review of Season 5, Episode 1, "Live Free or Die," check out The A.V. Club, E! Online, Entertainment Weekly (recap and review), HitFix, The Hollywood Reporter, The Huffington Post, the Los Angeles Times, MTV, New York, Rolling Stone, Slate, Time, TVLine, TheWrap and Zap2it.
Read More