Press
Breaking Bad Tops EW 'Must List'; GQ Profiles Aaron Paul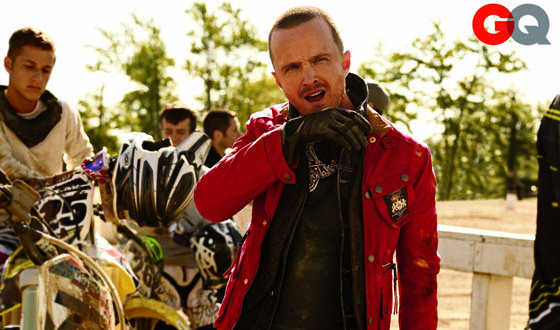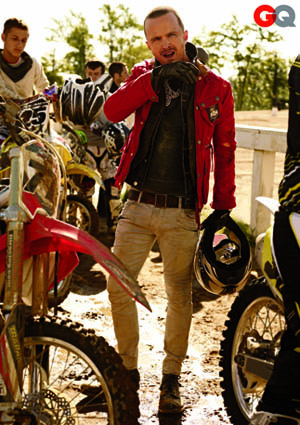 This week, Breaking Bad is No. 1 on Entertainment Weekly's "Must List," and The Hollywood Reporter puts Vince Gilligan, Bryan Cranston, Anna Gunn and Aaron Paul on the cover. Plus, Season 5 gets rave reviews while Aaron Paul gets a GQ profile.
• Breaking Bad tops Entertainment Weekly's "Must List." The magazine cautions, "Don't expect the fifth season to start slowly." (No link.)
• Bryan Cranston, Anna Gunn, Vince Gilligan, and Aaron Paul grace the cover of The Hollywood Reporter, which discusses Season 5 of the "darkest drama on television." The Hollywood Reporter also provides excerpts from the cover story. THR's review notes the "first two episodes sent to critics are well and truly awesome, with plenty of shock-filled moments — and humor."
• Breaking Bad's Season 5 reviews are in. Entertainment Weekly gives the Season 5 premiere an "A," calling Walt's arc over the life of the series "one of the great narratives in television history." (No link.) Hit Fix thinks the show is "still a perfect model of filmed suspense. There are still moments where you may forget to breathe." Variety says Breaking Bad is "one of those landmark series where viewers can only take it on faith [Vince] Gilligan knows where he's heading — with the reassuring note in terms of quality control that he hasn't delivered a bad batch yet." TV Guide says, "We can't take our eyes away from the brilliant [Bryan] Cranston as he coolly plots his next move." (No link.) People believes each season has "gotten better and better." (No link.) The New York Post gives the season opener four stars.
• GQ interviews Aaron Paul, calling him "one of the best young actors in the biz."
• Bryan Cranston visits NBC's Today Show and notes that Walt "has been seduced by what was possible in this new life, which was impossible in his other life" — and reveals that his wife won't watch Breaking Bad at night. Cranston teases to MTV the involvement in the Walt-Jesse partnership of the character played by Jesse Plemons, calling him a "wild card."
• Bryan Cranston shares his thirteen favorite Breaking Bad moments with the Daily Beast. HitFix relives some of Walt's most memorable moments from the first four seasons with Bryan Cranston. Cranston also talks with the A.V. Club.
• Newsday, which talks to Vince Gilligan about the upcoming season, calls Breaking Bad "one of the three or four finest U.S. television dramas of the past dozen years." USA Today and IGN also speak to Gilligan about Season 5.
• In an interview, Aaron Paul tells The Wrap that "Walt knows just exactly how to manipulate Jesse to do whatever he wants." HitFix revisits some of Jesse's most memorable moments with Aaron Paul.
• Anna Gunn speaks with the Associated Press about Skyler's view of Walt: "She knows this man is not just in it for the money anymore, that there's something much bigger and deeper and darker drawing him in."
• Betsy Brandt gives an extensive interview to BuzzFocus.com about the different seasons, past and present, and discloses that Glenn Close is a Breaking Bad fan. Brandt also speaks briefly with Reelz.
• Dean Norris characterizes Hank to the New York Daily News: "I think Hank's the kind of guy who grew up on John Wayne movies. He just has a sense of what he thinks is right."
• The Huffington Post gives five reasons why Breaking Bad is "one of the great shows of television's Golden Age."
• One thing The Atlantic is most looking forward to watching this summer is "AMC's fascinating series" Breaking Bad.
• The Associated Press reports that Bryan Cranston will direct one episode during Breaking Bad's final season.
• TV Guide highlights a behind-the-scenes video featuring Vince Gilligan and several cast members teasing Season 5, especially Walt's role as the "new kingpin."
• Vince Gilligan raises the possibility to Entertainment Weekly about a Breaking Bad spin-off centered around Saul Goodman.
• Rolling Stone interviews Dave Porter, Breaking Bad's composer.
• One of Glamour's top entertainment obsessions this month is the "twisted, thrilling" Breaking Bad.
• TV Line shows off Breaking Bad's "stark" Comic-Con poster. Meanwhile, according to ScreenRant, MTV is looking forward to Breaking Bad's Comic-Con panel: "I've already seen the premiere, and if they show the cold open… Holy wow, I want to be in that room while the audience freaks." IGN can't wait for the show's Comic-Con event because Breaking Bad "has stood out first and foremost by simply being one of the very best shows on television these days."
• Media Post makes its Emmy picks, including Breaking Bad ("a series as dark and unsparing as any ever produced for American television"), Bryan Cranston, Anna Gunn, and Aaron Paul or Giancarlo Esposito.
• Los Angeles magazine lists what it considers to be Breaking Bad's five best episodes. New York magazine chronicles the five episodes to watch before the Season 5 premiere.
• The Huffington Post considers Bryan Cranston's metamorphosis from Malcolm in the Middle's Hal to Breaking Bad's Walt to be one of Hollywood's biggest transformations.
• Aaron Paul is one of the Huffington Post's hottest actors of this summer's TV season.
• Breaking Bad was No. 5 on Ad Age's tally of the top TV shows on entertainment check-in service Get Glue.
• One of Uproxx's twenty reasons to be proud of American TV: "Because the best drama in TV history, Breaking Bad, returns in less than two weeks." Uproxx, which describes Breaking Bad elsewhere as the "best drama on television," also examines the "pink teddy bear" motif throughout the series.
• Krysten Ritter talks to The Hollywood Reporter about her career thus far, including her time on Breaking Bad (a role that "ended up changing the course of my life and career").
• Techli praises Reddit and Luis Moncada (who played one of the Cousins on Season 3) for teaming up to raise money for A Place Called Home, a charity focused on at-risk youth in South-Central Los Angeles.
Read More