Press
Time Praises Season 5; New York Post Promises a "Wild Ride"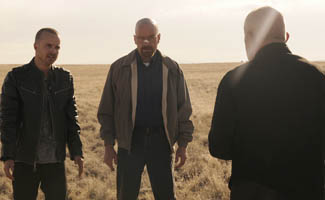 This week, TIme Magazine hails Season 5 as "unflinching" while the New York Post advises viewers to prepare for a "wild ride." Plus, Bryan Cranston gets an invite to join the Academy of Motion Picture Arts and Sciences. Read on for more:
• Time thinks Breaking Bad has told the story of its anti-hero with "epic sweep, and its fifth-season debut is as unflinching as ever."
• The New York Post talks to Vince Gilligan about the upcoming season and warns viewers to "strap themselves in for another wild ride."
• TVLine reviews Breaking Bad Season 5's first two episodes, and is "(not surprisingly) completely riveted."
• USA Today and TheWrap report on Bryan Cranston's invitation to join the Academy of Motion Pictures Arts and Sciences, the body that votes for Oscar winners.
• In Season 4, Jesse was "struggling with the fact that he killed Gale, possibly the nicest character that's ever existed on Breaking Bad," Aaron Paul tells Entertainment Weekly.
• New York magazine examines Breaking Bad's use of reflections — from standard mirror shots to oblique reflections — throughout its first four seasons.
• Entertainment Weekly offers "90 seconds of spoiler-free footage" of the Breaking Bad premiere, noting the season's first two episodes "hit the ground running."
• Steven Soderbergh tells BuzzFocus that he cast Betsy Brandt in Magic Mike because he's a Breaking Bad fan.
• ABC News consulted Vince Gilligan and other TV experts to refine the nominees for its "Best in TV" poll.
• The Contra Costa Times's dream Emmy ballot includes Breaking Bad (Drama Series), Bryan Cranston (Lead Actor), Giancarlo Esposito (Supporting Actor) and Anna Gunn (Supporting Actress).
• TV Fanatic wants Breaking Bad and Anna Gunn on the Emmy ballot.
• Technorati's best supporting actor Emmy ballot includes Aaron Paul ("It's going to be pretty hard for anyone to vote against him") and Giancarlo Esposito ("His performance as Gustavo Fring is something worth a ton of praise").
• GoldDerby thinks Giancarlo Esposito will be the one to put an end to "the lack of African-American nominees and winners throughout the 63-year history of the Emmy Awards."
• Walt was up against The Wire's Stringer Bell in TVLine's Ultimate Bad Boy Bracket Tournament.
• Indiewire looks to The X-Files episodes penned by Vince Gilligan to find signs of what would become Breaking Bad.
• The Albuquerque Journal reports on a trolley tour of Breaking Bad's filming sites around Albuquerque.
• Breaking Bad's July 15 season premiere appears on Entertainment Weekly's list of summer TV highlights.
Read More